Denver — With their recent subpar play, 35-year-old Patrick Roy and 40-year-old Ray Bourque had prompted whispers that their sterling careers might be in serious decline.
With one game, the two veterans silenced those critics.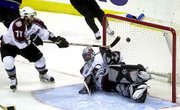 Roy set an NHL record with his 16th career playoff shutout, and Bourque had a key defensive play as the Colorado Avalanche beat the Los Angeles Kings 2-0 Saturday to even their Western Conference semifinal series at 1-1.
"I didn't know until the last series that I was close to the playoff shutout record," Roy said. "But my focus right now is mostly on winning. I try not to put too much pressure on myself, and I don't read the papers."
Roy said Bourque's play in the second period "really helped us out. If we want a chance to win the Cup, everyone has to make great plays."
Roy finished with 20 saves. The Kings' Felix Potvin had 26 saves.
Game Three of the best-of-seven series will be Monday in Los Angeles.
Colorado took a 1-0 lead after a bizarre sequence.
Glen Murray's short-handed shot for Los Angeles deflected into the air off a sprawling Roy and appeared headed into the net, but Bourque swatted it away with his stick.
While video goal judges consulted replays to determine if the puck had crossed the goal line, Nieminen scored moments later, jamming in a rebound of Peter Forsberg's shot at 2:29.
If Murray's goal was allowed, Nieminen's goal wouldn't have counted. But because the on-ice officials had not ruled Murray's attempt a goal and because replay was inconclusive, it was disallowed and Colorado had a 1-0 advantage.
"It was a huge momentum swing our way," Bourque said.
Devils 6, Leafs 5, OT
East Rutherford, N.J. Randy McKay scored from close range at 5:31 of overtime and New Jersey evened its Eastern Conference semifinal at one game apiece.
Alexander Mogilny had two goals and three assists, and Scott Gomez, Brian Rafalski and John Madden also scored for the Devils, who bounced back after blowing a three-goal third-period lead.
Mats Sundin and Steve Thomas scored twice each and Danny Markov once for Toronto, which had won five straight playoff games.
Maple Leafs goalie Curtis Joseph had allowed only three goals in those five games.
The best-of-seven series shifts to Toronto for games on Tuesday and Thursday.
Sergei Brylin blocked a shot at the right point with Toronto on the attack in overtime, setting up a 4-on-2 break. Bobby Holik carried the puck toward Joseph and then feathered a pass across the crease that McKay tapped into an open net.
Thomas forced overtime with 23 seconds left on a snap shot.
Penguins 3, Sabres 1
Buffalo, N.Y. Pittsburgh's Andrew Ference, a defenseman known for his hard-hitting style, scored the go-ahead goal with 11:51 left in the third period, lifting the Penguins.
Robert Lang and Alexei Kovalev also scored as the Penguins took a 2-0 lead in their best-of-seven second-round series, which resumes Monday in Pittsburgh.
Former Penguins player Stu Barnes scored for the Sabres, who lost 3-0 in Thursday's Game One. The Sabres are 0-15 when losing the first two games of a playoff series.
Penguins rookie goalie Johan Hedberg stopped 21 shots.
It didn't help that Buffalo lost two of its top defensemen, Alexei Zhitnik and Jay McKee, who were shaken up by hard hits and did not finish the game.
Jaromir Jagr, who won his fourth consecutive scoring title this season, missed the game with a charley horse sustained in the second period on Thursday.
Jagr spent 20 minutes testing his leg in practice Friday, after which he complained about soreness.
Copyright 2018 The Associated Press. All rights reserved. This material may not be published, broadcast, rewritten or redistributed. We strive to uphold our values for every story published.