Mattawa, Wash. — Apple orchards are blossoming just down the road. But there is one student in Michelle Hansen's honors English class who is not there to see it.
Cory Baadsgaard is, instead, in the county jail, writing letters of apology to classmates he has known since kindergarten the same ones he forced into a classroom corner using a loaded big-game hunting rifle and swear words many had never heard him use before.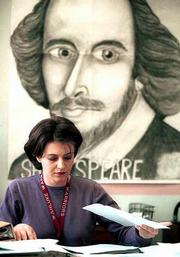 "It's hard to write when you're shaking and crying," the 16-year-old said in a letter that his friend, Clint Price, read to the class soon after the April 10 standoff.
"I'm so sorry about what I did. ... I never once thought about hurting any of you."
No one was hurt, at least not physically, at Wahluke High School. But the anger and second-guessing linger, and one question continues to echo in the hallways.
"Why?"
It's a question without a satisfactory answer here, or any other place where a student has walked into school with a weapon and a confused mind or bad intentions.
According to the National School Safety Center, which began tracking school deaths in 1992, the numbers have dropped in the last decade.
Even so, teen-agers have come of age hearing about rampages so heinous they are now simply referred to with one word: Jonesboro, Paducah, Columbine and Santee among them.
The issue has hit especially close to Mattawa, a tiny no-stoplight town nestled in a valley that the Columbia River has carved through the red rock and sagebrush of central Washington's high desert. Five years ago in nearby Moses Lake, Barry Loukaitis opened fire on his ninth-grade math class, killing two students and a teacher and seriously injuring another student.
"I go to sporting events in other states and people say, 'Hey, didn't you guys have a shooting there?"' Justin Workman, the senior class president at Moses Lake High School, says, sighing. "It's all we seem to be known for."
Still, students in Mattawa many of them children of ranchers or farm hands never really believed it would happen to them.
And if it did, the gunman wouldn't be Baadsgaard, a lanky, baby-faced teen who was quick to give a hug.
"I lay awake at night thinking about it," Price, who is 17, says. "I wish he would've said something."
When searching for answers, students in Baadsgaard's class don't mention bullying or teasing. But they do wonder about other factors among them, violence in movies and video games and guns that, a few believe, are too accessible.
"Maybe he was copying what he saw on the news," 16-year-old classmate Marcela Negrete said, later adding, "Maybe he just wanted more attention from us."
Copyright 2018 The Lawrence Journal-World. All rights reserved. This material may not be published, broadcast, rewritten or redistributed. We strive to uphold our values for every story published.