Indianapolis — Allen Iverson loves the team whose fans seem to hate him most.
Iverson had 32 points and the Philadelphia 76ers silenced the Indiana hecklers by scoring their final 10 points on free throws to beat the Pacers 92-87 on Saturday to take a 2-1 lead in the best-of-five Eastern Conference first-found series.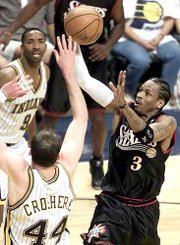 Game 4 is in Indianapolis on Wednesday night.
"Anybody can give up, but the team that beat us two years in a row isn't going to give up," Iverson said. "This whole series is something I'll cherish, because this team brings out a lot in Allen Iverson. This team helps me be a better player than I already am."
The Pacers, who eliminated the 76ers from the playoffs each of the past two years, erased a 15-point deficit and tied the game 82-82 with less than three minutes to go on a three-pointer by Reggie Miller, who led all scorers with 35 points.
The Pacers had a chance to take the lead after George Lynch missed two free throws. But Miller missed a shot and Al Harrington fouled Dikembe Mutombo, whose two free throws started the 76ers' parade to the foul line. Iverson had three free throws, Aaron McKie and Tyrone Hill had two apiece and Eric Snow one.
"It was hard," Iverson said. "If they would have made a couple more shots, it might have been a different outcome. ... We stopped playing the way we were playing."
Philadelphia did not get a field goal in the final five minutes.
"It's a shame when you play good defense and stop teams from scoring and you don't let them get field goals and they beat you from the foul line," Pacers coach Isiah Thomas said. "We were able to get back with a very small team, and they got to the free throw line. There's nothing you can do about that. But you've got to give them credit, because they were able to get to the line."
Philadelphia led 45-41 at halftime. After a tie at 49, baskets by Snow and Iverson put the 76ers ahead until the Pacers' late run in the fourth quarter. Iverson had six points during a 17-4 run that gave Philadelphia its biggest lead at 70-55.
"I got a couple one-on-one plays in the third quarter and took advantage of it," Iverson said. "Then they started doubling again and I started looking for Aaron and Eric. That's the thing. That's been important in this series, because if they're going to double I have to believe in my teammates."
Pacers fans behind the 76ers bench were generally well-behaved, and so was Iverson. The guard was fined $5,000 by the NBA for shouting a derogatory remark about gays to hecklers the last time he played in Indianapolis.
This time, aside from a chorus of boos for Iverson during introductions, the most heated anger was directed at Matt Geiger. He received a technical after a hard foul on Travis Best in the second quarter.
Magic 121, Bucks 116, OT
Orlando, Fla. Tracy McGrady had 42 points 21 in the fourth quarter and overtime as Orlando finally beat Milwaukee to stay alive in their playoff series. McGrady, honored as the NBA's Most Improved Player earlier Saturday, tied Orlando's playoff scoring record and added 10 assists and eight rebounds.
Orlando, which had lost 11 straight games against Milwaukee, finally found McGrady some offensive help, with Darrell Armstrong scoring 18 points and Pat Garrity adding 16.
The Magic pulled out the victory despite letting a 14-point lead slip away in the last five minutes of regulation.
Ray Allen scored 27 points, Sam Cassell had 21 points and a career-high 16 rebounds, and reserve Tim Thomas scored 18 for Milwaukee, which won the first two games of the series at home.
Game 4 in the best-of-five series is Tuesday in Orlando.
The Magic appeared to have the game in hand leading 101-87 with 4:58 remaining, but Milwaukee rallied.
Timberwolves 93, Spurs 84
Minneapolis Terrell Brandon scored 21 points, and Kevin Garnett added 20 as Minnesota got Tim Duncan in foul trouble and beat San Antonio to extend their playoff series.
Duncan had 15 points and 10 rebounds in 29 minutes, sitting out a chunk of the fourth quarter with five fouls. He avoided fouling out for what would have been only the seventh time in his four-year, 317-game career, including the playoffs. David Robinson had 22 points and 17 rebounds for the Spurs.
Game 4 is Monday night in Minneapolis, with the Spurs holding a 2-1 lead in the best-of-five first-round series.
Duncan's fifth foul came while he was on offense and away from the ball, trying to separate himself from Reggie Slater. He left the court with 9:03 left and the Spurs trailing 73-68, but they were within 77-74 when he returned with 5:15 remaining.
Mavericks 94, Jazz 91
Dallas Steve Nash hit a go-ahead turnaround jumper with 22.7 seconds left and Michael Finley then added two free throws as Dallas pulled out a win over Utah to avoid a first-round sweep.
Playing their first home playoff game in 11 years, the Mavericks won in the postseason for the first time since June 2, 1988, when they took Game 6 of the Western Conference finals from the Los Angeles Lakers.
The victory was sealed when Nash chased down the rebound of a wild three-pointer missed by John Stockton.
Utah leads the best-of-five series 2-1. Game 4 will be Tuesday night in Dallas.
Copyright 2018 The Associated Press. All rights reserved. This material may not be published, broadcast, rewritten or redistributed. We strive to uphold our values for every story published.