The commander of NATO stressed the need for continued cooperation with the Ukrainian military, but during a brief speech Saturday at Kansas University stopped short of endorsing that country's formal membership in the defense alliance.
"It is a very legitimate political decision made by the capitals of 19 nations as to when and who will be drawn as a member of NATO," Gen. Joseph Ralston told about 100 people in the Kansas Union's Alderson Auditorium.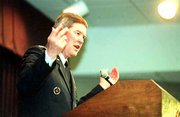 Ralston, the Supreme Allied Commander in Europe, concluded the three-day "Building a Vital U.S.-Ukraine Partnership" conference.
Ralston noted that the U.S. and NATO already have a defense partnership with Ukraine.
"We work very carefully with our political masters, both in the U.S. State Department and the military, to make sure that we stay within the bounds that are authorized by political authority," he said.
Ralston said his job is to provide information to the political authority about how NATO and a possible new member would integrate militarily; the status of reform in the country's military; and the importance of the country geographically.
"We will do our part on the uniform side by providing the best military information we can, and then we'll all salute very smartly at the end of the process once the decision is made," Ralston said.
On a separate subject, Ralston said there is room for European nations to provide more for their defense with an expeditionary force that doesn't include U.S. military units.
At the same time, Ralston said he foresees problems if an all-European force sets up a headquarters and military action planning process separate from NATO. That would cause "more confusion than normal," he said.
He also warned against "double tasking" units to both NATO and an expeditionary force.
Col. Leonid Holopatyuck, who serves on the general staff of the Ukrainian Armed Forces, said he heard nothing unexpected in Ralston's speech. He said he agreed with Ralston that being a member of NATO was a major responsibility for a country.
Because of defense agreements and cooperation with NATO and the U.S., Ukraine is not worried about possible NATO membership.
"We are in no hurry," he said.
Copyright 2018 The Lawrence Journal-World. All rights reserved. This material may not be published, broadcast, rewritten or redistributed. We strive to uphold our values for every story published.