Lawrence High baseball coach David Petry hates when splits happen.
He especially dislikes the kind in which his team wins the first game and drops the second despite a lead in late innings.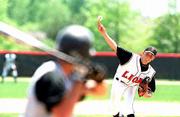 On Saturday at Ice Field, the Lions rallied with two runs in the bottom of the seventh inning for a 3-2 victory over No. 6-ranked Shawnee Mission East in the opener and squandered a late lead in the second game, a 6-4 loss.
"It's been the same thing over the last month," said Petry, whose Lions this season have split four twinbills after winning the first game. "We win one and we turn around and we can't get the second game. We have to find a way to get to next level. To get out of regional you have to win two games on the same day. Right now we're having troubles finding a way to get that second game won."
The Lions (7-6) have lost five games by two runs or less.
"This team is not going to quit and I don't think we quit in the second game," Petry said. "We've been talking all year how we can make ourselves two or three runs better to get more wins. Right now it's frustrating because I feel we're a better than a team that splits each time we take the field."
The Lions seemed on the brink of sweeping the Lancers Saturday. In the second game, LHS took a 4-3 lead in the bottom of fifth inning when Lion junior center fielder Rob Scott stroked a two-run single to center with two outs.
The Lancers, now 10-5 and the only team to beat LHS last year during the Lions' 22-2 state championship season, responded with a run in the top of the sixth to tie and two runs in the seventh.
The go-ahead run scored on a fielder's choice with the bases loaded. After cleanly picking up a grounder, Lion shortstop Brandon Bingham, thinking double play, struggled to get the ball out of his glove and was able to get a force at second for the second out of the inning. SM East's David Bates followed with an RBI single to right.
"We were hoping we could hold them off and we couldn't make the crucial plays and crucial times," said Scott, who had two of the Lions' seven hits in the second game.
SM East's go-ahead run was set up after Lancer Matt Boylan safely reached second on a botched pickoff.
"Everything unraveled after that play and we put ourselves in the hole," Petry said.
The Lions threatened in the bottom of the sixth, when they loaded the bases with none out. However, Lawrence's runner at third was picked off by SM East catcher David Bates. The Lions had three runners picked off in the twinbill.
"Good teams are not going to have bases loaded with nobody out and not get anything out of it," said Petry, miffed by the baserunning. "That's concentration on the bases and getting lackadaisical and not paying attention. In those situations, we have to come through and get something."
LHS junior infielder Chris Johnson came though in the first game. With two outs and Mike Morrell on second, Johnson poked a single between the SM East first baseman and the foul line for the game-winning run. Morrell, who drove in Andy Flory to tie at 2-all, advanced to second on Daniel Dulin's sacrifice bunt.
"I went up there looking for a pitch to hit," said Johnson, who started a key 6-4-3 double play in the top of the fifth to prevent a run. "I was looking to hit it anyplace. I kept my hands in and ripped it down the line."
Bingham, a New Mexico signee, was the winning pitcher in the first game. He allowed seven hits all singles and struck out six batters in seven innings.
LHS junior Joe Bell went 2-for-2, including a solo homer to left field, and scored two runs in the second game.
"I honestly feel we have the ability and talent to be a very good baseball team," Petry said. "Right now we're having trouble taking the next step."
Next for LHS is a doubleheader Tuesday at Leavenworth. The Lions' next home doubleheader is Friday against Shawnee Mission North.
Copyright 2018 The Lawrence Journal-World. All rights reserved. This material may not be published, broadcast, rewritten or redistributed. We strive to uphold our values for every story published.