Philadelphia — Michael Johnson and Marion Jones turned the boos to cheers in the Penn Relays on Saturday.
After part of the crowd showered the U.S. 800-meter relay team with boos, Johnson and Jones had the record turnout of 48,922 chanting "USA! USA! USA!"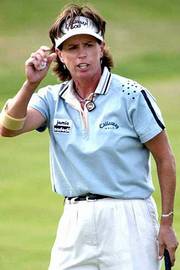 Johnson, in his final race in the United States, anchored the U.S. men's 1,600-meter relay team to a 12-meter victory over Jamaica in the culmination of a four-race series billed as "The USA vs. the World."
Johnson, the five-time Olympic gold medalist, nine-time World Championship gold medalist and 200- and 400-meter world record-holder who is retiring at the end of the season, was given a standing ovation after helping the U.S. team finish at 2 minutes, 58.60 seconds.
On the team's victory lap, he waved to the crowd, then high-fived some of the fans as they continued to applaud him for the memories.
Johnson was joined on the relay by Leonard Byrd, Olympic 400 hurdles champion Angelo Taylor and Jerome Young. Johnson and Taylor had the fastest legs, 44.2, Young ran 44.8 and Byrd 45.4.
The women's team also received thunderous applause after winning at 3:21.34, with Jones running the fastest leg, 49.4. Preceding Jones were Olympian Monique Hennagan (50.8), Michelle Collins (51.4) and Olympian Latasha Colander-Richardson (49.7).
Earlier, Olympic and world champion Maurice Greene helped the United States conquer the world.
Greene, also the world record-holder for 100 meters, anchored U.S. teams to victories in both the 400- and 800-meter relays. The Americans put on a strong show, finishing 1-2 in both races.
In the 400 relay, the No. 1 U.S. team was timed at 38.03, setting Penn Relays and Franklin Fields records. In the 800 relay, the time was 1:19.39, the second-fastest ever at the Relays.
Many in the crowd were cheering for the Jamaicans, who annually dominate the high school relays at Penn. After the 800 relay, the fans booed U.S. leadoff runner Jon Drummond on his victory lap as he kept pointing to the USA insignia on his singlet after he had removed the straps from the top of his uniform.
Copyright 2018 The Lawrence Journal-World. All rights reserved. This material may not be published, broadcast, rewritten or redistributed. We strive to uphold our values for every story published.