Korolev, Russia — With a smile and a wave, Los Angeles multimillionaire Dennis Tito rocketed into the heavens Saturday in a flawless launch from Russia's Baikonur cosmodrome that officially made him the world's first "space tourist."
As the Soyuz rocket in which he was strapped spewed fire and began to climb slowly skyward, Tito calmly checked his watch and a sheet of launch instructions and occasionally waved again at the cockpit camera.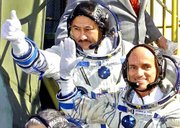 A few minutes into the launch, a mission control officer asked the investment fund manager in accented English how he was feeling.
"'Khorosho,"' Tito replied with gusto Russian for "good."
Tito is the first American to go into space without the support of the National Aeronautics and Space Administration indeed, the U.S. space agency vehemently opposed his trip, arguing that it would be foolhardy to launch an amateur cosmonaut to the International Space Station while it is under construction.
But for the Russians, paying passengers such as Tito might represent the future. With government funding eroded by the collapse of the Soviet Union, the $20 million that Tito is paying will not only cover the costs of the launch but leave plenty to spare.
As the Soyuz spacecraft reached orbiting altitude about 10 minutes after its 11:37 a.m. launch (2:37 a.m. CST), a jocular shout came from the VIP gallery here at Russian Mission Control outside Moscow. "'Dengi davai,"' the voice called out, prompting titters from the gallery and controllers on the floor: "Pay up."
NASA scrambled Saturday and finally overcame computer problems allowing robot-arm operations on the space station to proceed.
If all goes as planned, the Soyuz is scheduled to dock with the space station Monday. That depends on the success of more computer repairs, NASA said. The mission is scheduled to return to Earth on May 6.
Tito agreed a year ago to pay $20 million for a round trip to the Mir space station. But when Mir was ditched in March, the Russians offered a trip to the new ISS instead.
Saturday, Russian space officials expressed irritation with NASA, saying the Americans are treating them as second-class citizens on the ISS.
Copyright 2018 The Lawrence Journal-World. All rights reserved. This material may not be published, broadcast, rewritten or redistributed. We strive to uphold our values for every story published.