Washington — In his first 100 days, President Bush fought for tax cuts and against abortion while reversing Democratic environmental policies. It was a bullishly conservative agenda that belied his whisker-thin election victory and his party's fragile hold on Congress.
And none of it should have been a surprise.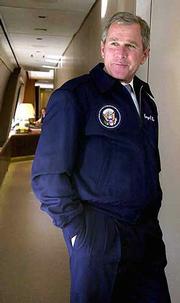 The nation's 43rd president did much of what he promised, and nearly everything he had planned, for his opening chapter. Then again, Bush had set expectations rather low.
"We've never had such thin issues," said Henry Graff, presidential historian from Columbia University. "He doesn't say very much. He has pat phrases. And he seems to have every word under control. He keeps himself under wraps."
Polls show Americans like Bush, but are a bit cooler about his policies. They were similarly torn during the presidential campaign, when the Republican governor of Texas was viewed as the nicest candidate but Democrat Al Gore pushed more popular proposals.
Nearly six months after voters went to the polls, the same question is being asked of their new president: Is he up to the job? A verbal stumbler with a half-moon grin and snorty laugh, Bush does not always look comfortable in his new role.
Still, even many Democrats give the president credit for a solid start.
"He's done better than expected, but we didn't expect much," said Democratic consultant Dane Strother. "Freeing the airmen from China was a plus for him, and the only place he stubbed his toe was on environmental policies and he's making amends on that."
"They're running that place like a corporation," Strother said. "And early dividends are pretty good."
Bush Inc. opened for business at 7:28 a.m. Jan. 22, when Bush strolled into the Oval Office for his first full day of work.
He received his national security briefing, met with Secretary of State Colin Powell, ate lunch with Senate Republicans and signed his first presidential order. It reinstated restrictions on federal funding to family planning groups overseas that advocate abortion.
The action restored limits imposed by Bush's father and reversed by President Clinton.
Bush had clearly staked out his anti-abortion position in the campaign, but it was a surprise to see him move so quickly to please conservatives.
In later moves, Bush backed out of an international global warming treaty, reversed workplace safety rules, revoked a Clinton administration plan to reduce arsenic in drinking water, suspended environmental regulations for mining on public lands, and called for oil drilling in Alaska's wilderness.
None of the decisions was at odds with Bush's campaign promises or his record in Texas.
He did break one major promise by deciding not to regulate carbon dioxide emissions as a pollutant.
Adjustments, as needed
Democrats said Bush was giving new meaning to "compassionate conservative" his campaign slogan.
"It means he's compassionate for conservatives," said Senate Democratic leader Tom Daschle of South Dakota.
Polls commissioned by the White House showed Bush's support dipping among moderate voters, prompting him to soften his conservative edges with a series of pro-environmental initiatives.
The action was typical of the president's willingness to adjust with the shifting political winds.
He sent Congress his $1.6 trillion, 10-year tax-cut plan on Feb. 8, pledging to fend off calls for higher or lower reductions. "My package is just right," he said. After the evenly divided Senate shrank his package to $1.2 trillion still a massive tax cut Bush said he would compromise.
"I'm a practical man," he told the Associated Press in a 100-day interview.
Bush also was practical enough to stop fighting for his plan to ship federal money to private schools over Democratic objections, saving his political capital for a broader school package.
Politics, not ideology, prompted Bush to soften his opposition to a bill banning unregulated, unlimited campaign donations. The measure passed the Senate under the stewardship of former GOP primary rival John McCain of Arizona.
Foreign fronts
On foreign policy, Bush took a hard line on China, North Korea and Russia. His policy shifts unsettled allies from Asia to Europe.
Bush approved a potent arms package for Taiwan and warned China that U.S. military force could be used if the island was attacked. He pulled back from negotiations with North Korea, calling that nation a threat to U.S. security.
Bush pushed forward with plans to build a national missile defense system, despite opposition from U.S. allies.
Working quietly behind the scenes, Bush directed the diplomatic fight to free 24 U.S. airmen from China. The incident highlighted Bush's style of crisis management: Give advisers broad goals and then let them solve the problem.
As his aides struggled to get Beijing to budge, Bush told them in an Oval Office meeting, "We must be able to find a way out of this" that lets both countries save face. The advice led his foreign policy team to seek the right words to express regret for the accident without an outright apology.
Low-key presidency
Bush kept out of sight throughout the crisis, declining even to take part in homecoming ceremonies after the crew was released. This, too, was typical of Bush.
He kept a low profile as the Senate shrank his tax-cut plan by $400 billion, and had little to say about riots in Cincinnati.
Supporters say Bush's silent style is a welcome contrast to the ubiquitous Clinton.
Critics say Bush does not say much because he has not done much.
The president himself says he benefits from those low expectations.
"I'm doing everything I can to keep 'em low," he said with a knowing chuckle.
Copyright 2018 The Associated Press. All rights reserved. This material may not be published, broadcast, rewritten or redistributed. We strive to uphold our values for every story published.