Fort Worth, Texas — Kenny Brack, the only CART driver with racing experience at Texas Motor Speedway, earned the pole for the inaugural Firestone Firehawk 600.
Brack ran a qualifying lap at 233.447 mph Saturday to take his second CART pole, but insisted afterward that his five Indy Racing League races at the 11/2-mile high-banked track from 1997-99 gave him no edge. He was just a little bit faster than everybody else.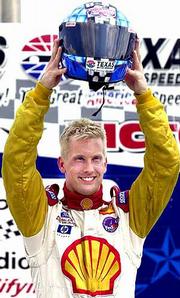 "My knowledge of this place didn't give me any advantage," Brack said. "If it's a good car, it's fairly easy to figure out where to run. We'll see tomorrow if I know something more than the others."
Of the 25 cars that ran qualifying laps Saturday, 17 of them ran better than 230 mph. Only one car was more than a second slower than Brack.
Patrick Carpentier will start on the outside of the front row today after a qualifying run of 233.345. Oriol Servia (232.978), who got just one qualifying lap in before blowing his engine, and Bryan Herta (232.663) will start in the second row. All four have Ford-powered cars.
Brack's qualifying speed was in line with his 233.785 that was the fastest during practice Friday. But it was nearly three mph slower than the draft-aided speeds Paul Tracy and Tony Kanaan reached during a practice session Saturday morning.
The high speeds were expected at Texas, CART's first race on a high-banked track built primarily for NASCAR. Texas is tighter, shorter and steeper than Michigan Speedway and California Speedway, CART's two fastest tracks.
Unprecedented force and stress will be placed on the cars and the drivers because of the 24-degree banking at TMS, making this more a race of endurance than speed for 250 laps.
"Definitely. Everybody's going flat out and there is not much really a driver can do except to get the car to the finish," said Adrian Fernandez, who starts 12th. "It's going to be a hard race, with a lot of laps and a lot of roughness on the track. A lot of things can happen."
Gil de Ferran, the defending CART series champion, set a world closed course speed record with a 241.428 mph qualifying run at the 2-mile California Speedway oval last year. His 231.291 Saturday was good for seventh.
"Oval racing is a different animal than road racing, but then Texas itself is a different animal than anything we've ever done before," de Ferran said. "It's going to be a very tough race."
Brack, the 35-year-old Swedish driver, also earned the pole in the season-opening Monterrey Grand Prix in Mexico. He finished fifth there and is still looking for his first CART win, preparing to make his 23rd start for Team Rahal.
"We want to really look for the checkered flag, but starting up front is obviously good," Brack said. "Hopefully, we won't get involved with any action at the start."
Carpentier, the Canadian without a win in his five years in CART, was the second car on the track Saturday and his time held up as the second-fastest and his best start since earning a pole in Milwaukee in 1998.
---
Firehawk 600 Qualifying
Saturday for today's race at Texas Motor Speedway, Fort Worth, Texas
1. (8) Kenny Brack, Ford Lola, 22.854, 233.447.
2. (32) Patrick Carpentier, Ford Reynard, 22.864, 233.345.
3. (22) Oriol Servia, Ford Lola, 22.900, 232.978.
4. (77) Bryan Herta, Ford Reynard, 22.931, 232.663.
5. (52) Shinji Nakano, Honda Reynard, 22.988, 232.086.
6. (66) Alex Zanardi, Honda Reynard, 23.003, 231.935.
7. (1) Gil de Ferran, Honda Reynard, 23.067, 231.291.
8. (33) Alex Tagliani, Ford Reynard, 23.077, 231.191.
9. (11) Christian Fittipaldi, Toyota Lola, 23.079, 231.171.
10. (26) Paul Tracy, Honda Reynard, 23.097, 230.991.
11. (6) Cristiano da Matta, Toyota Lola, 23.105, 230.911.
12. (51) Adrian Fernandez, Honda Reynard, 23.116, 230.801.
13. (16) Michel Jourdain Jr., Ford Lola, 23.120, 230.761.
14. (55) Tony Kanaan, Honda Reynard, 23.142, 230.542.
15. (12) Nicolas Minassian, Toyota Lola, 23.146, 230.502.
16. (27) Dario Franchitti, Honda Reynard, 23.165, 230.313.
17. (7) Max Papis, Ford Lola, 23.176, 230.204.
18. (39) Michael Andretti, Honda Reynard, 23.215, 229.817.
19. (3) Helio Castroneves, Honda Reynard, 23.292, 229.057.
20. (18) Scott Dixon, Toyota Reynard, 23.319, 228.792.
21. (4) Bruno Junqueira, Toyota Lola, 23.373, 228.263.
22. (40) Jimmy Vasser, Toyota Ford, 23.479, 227.233.
23. (5) Tora Takagi, Toyota Reynard, 23.533, 226.711.
24. (20) Roberto Moreno, Toyota Reynard, 23.580, 226.260.
25. (25) Max Wilson, Phoenix Lola, 24.308, 219.483.
Copyright 2018 The Associated Press. All rights reserved. This material may not be published, broadcast, rewritten or redistributed. We strive to uphold our values for every story published.