New York — Ted Lilly chose the wrong day for his first major league win.
Lilly's feat was overshadowed by Chuck Knoblauch's hitting and Joe Torre's 500th win as Yankees manager as New York beat the Oakland Athletics 7-6 Saturday.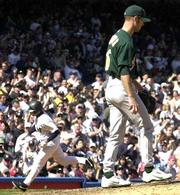 The rookie left-hander didn't even get to keep the game ball from his first win, because closer Mariano Rivera gave it to his manager instead.
"He gets lost in this one," Torre said. "He picked a bad day to win. I'm going to keep the ball because Mariano gave it to me. I'll give him one of the lineup cards because I kept two."
Lilly, who is solidifying his role as New York's fifth starter after beginning the season in the minors, had no complaints.
"I'm not going to be picky," he said. "Regardless of whether I got the game ball, I'll always remember this for the rest of my life."
Lilly (1-0) allowed three runs, two hits and three walks in 52/3 innings, leaving to a standing ovation for the second time in as many starts this year.
Rivera allowed a two-run homer to Olmedo Saenz in the ninth that brought Oakland within one before finishing for his fifth save.
It was fitting that Knoblauch starred on the day that Torre became the sixth manager to win 500 games with the Yankees. Torre has stood by Knoblauch during his throwing woes the past two seasons and showed his faith in Knoblauch's value to the team when he decided to move the second baseman to left field.
"He's great to play for because he's a great communicator," said Knoblauch, who went 4-for-5 with a homer and three RBIs. "He's experienced everything on and off the field. He had good years and bad years. He's run the gamut. When he talks he has a certain validity behind it because we know he's been in our place."
Knoblauch has felt more at ease at the plate this season now that he has been relieved of playing second base. The sparkplug of the Yankees offense is on an 11-game hitting streak, going 26-for-51 during that span to raise his average to .352. He has nine multihit games in the streak.
Knoblauch doubled in the first, singled and scored in the third, had an RBI single in the fourth and hit a two-run homer in the sixth against Tim Hudson (2-3).
Hudson, a 20-game winner last year, gave up 12 hits and seven runs in six innings the second straight start he has allowed seven runs.
The A's (8-16), the defending AL West champions, fell a season-low eight games below .500 and are off to the second-worst start in Oakland history.
"We have good character in this clubhouse and I think we'll turn it around," Hudson said. "We know we're a good ballclub."
Torre joined Joe McCarthy (1,460), Casey Stengel (1,149), Miller Huggins (1,067), Ralph Houk (944), Billy Martin (556) in the 500-win club.
"The people I'm sharing it with are special to Yankee tradition," said Torre, who is 500-333 with New York. "I knew Casey, Ralph and Billy. To join that group is special."
Angels 4, Blue Jays 1
Toronto Ramon Ortiz scattered five hits in seven innings before leaving with a sprained right ankle in the Anaheim Angels' victory over Toronto. Ortiz (3-2), who allowed just one run in 71/3 innings, had to be helped off the field after spraining his ankle while covering first on a grounder in the eighth. Toronto's Jose Cruz Jr. went 0-for-4, ending his career-high hitting streak at 19 games. Toronto's three-game winning streak also ended. Chris Michalak (3-1) gave up three runs on five hits in five innings.
Devil Rays 7, Tigers 3
Detroit Mike Judd pitched five strong innings and Gerald Williams had three RBIs in Tampa Bay's victory. Judd (1-0) allowed two unearned runs, three hits, walked four and struck out two in his second start of the season and seventh of his career. Williams went 3-for-3, including two doubles, walked twice and scored two runs to lead the Devil Rays, who had their two-game losing streak stopped. Matt Perisho (0-2) gave up seven runs, six earned, on five hits in 31/3 innings for the Tigers.
Mariners 8, White Sox 5
Chicago Kazuhiro Sasaki got his record 13th save in April as Seattle won its ninth straight and set a major league mark with 20 April victories, breaking the mark set by the 1996 Braves. Mark McLemore homered and Bret Boone hit a go-ahead, sixth-inning single for the Mariners, who at 20-4 are off to the best start in baseball since Milwaukee won 20 of 24 to open the 1987 season. Brett Tomko (1-1) allowed one hit in 12/3 inning. Rocky Biddle (1-1) gave up six runs, eight hits and five walks in 51/3 innings.
Indians 7, Rangers 3
Cleveland Roberto Alomar hit a two-run homer his first this season and Juan Gonzalez threw out two runners from right field. Alomar's shot in the sixth inning off Rick Helling (1-4) was his first homer in 81 at-bats. Einar Diaz had three doubles and three RBIs for the Indians. Dave Burba (3-1) limited the majors' top-hitting team to two runs and six hits in 62/3 innings.
Orioles 5, Twins 2
Minneapolis Brook Fordyce, in a 1-for-28 slump, hit a two-run homer and drove in three runs. Chuck McElroy gave up one run and three hits in 52/3 innings, and Mike Trombley pitched two innings for his first save since last Aug. 26 against Tampa Bay. Mark Redman (1-3) allowed two runs and eight hits in seven innings.
Copyright 2018 The Associated Press. All rights reserved. This material may not be published, broadcast, rewritten or redistributed. We strive to uphold our values for every story published.