St. Petersburg, Fla. — Mac Suzuki made it look easy.
Suzuki threw eight shutout innings and Dee Brown hit his first major league homer as the Kansas City Royals beat the Tampa Bay Devil Rays, 6-0, Thursday to avoid a three-game sweep.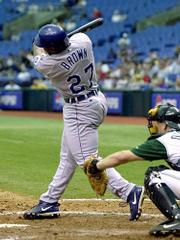 "If I can finish, that would be great, but I knew the pitch count was high," Suzuki said. "I'll take it. Eight innings, no runs."
Suzuki (2-1) gave up six hits, struck out four and walked one. He was lifted in the ninth after a two-base error by first baseman Mike Sweeney. Jason Grimsley finished up.
"We didn't swing the bats well as a team, but he pitched well," Devil Rays manger Hal McRae said. "Sometimes you tip your cap to the pitcher for doing an outstanding job. Suzuki was outstanding."
Suzuki had shoulder surgery last October. He threw 107 pitches.
"It's not a popular call," Royals manager Tony Muser said of his decision to remove Suzuki. "I know how much pitchers like shutouts. I was thinking heavily about it, but this is as far as he's gone as far as pitch counts. He's got about 25 starts left this season, he had arm surgery this winter. Let's go with our heads and not try and stretch him out."
Suzuki threw 90 pitches in his start last Friday.
"He's remarkable," Muser said. "I think the average time of coming back from what he had done to his shoulder is about seven-to-nine months. I think it's a compliment to Mac on how hard he worked. He took real good care of himself in rehab."
Brown hit a two-run shot the Royals' first extra-base hit in the three-game series to put Kansas City up 2-0 in the fourth inning. He added a run-scoring single during a three-run, sixth.
"It took a while. I just told everybody, I just want one," said Brown, who connected in his 97th career at-bat.
Rey Sanchez and Sweeney had RBI doubles in the sixth as the Royals scored more than five runs in a game for just the second time this season.
Tampa Bay starter Bryan Rekar (0-3) gave up five runs and seven hits in 5 1-3 innings. The right-hander has allowed 10 runs and 14 hits over 10 innings in his past two starts.
"I was struggling with my command the whole game," Rekar said.
The Devil Rays have been shutout a major league-high four times. The Royals hadn't blanked an opponent since last Sept. 27 against Detroit
Aubrey Huff had a one-out double for Tampa Bay in the fifth, but was thrown out by center fielder Carlos Beltran trying to score on Mike DiFelice's single.
Tampa Bay's Russ Johnson singled and went to second on a wild pitch with one out in the eighth inning, but was left stranded.
"We were outplayed, out-pitched and out-hit," McRae said. "We were overmatched from a pitching point of view."
The Devil Rays hit into double plays in both the first and second innings. Kansas City threatened in the first, putting two on with no outs. After Mark Quinn popped out, Sweeney hit into his first double play in 76 at-bats this season.
Sweeney went 3-for-4 with three runs scored and two doubles.
Tampa Bay, which won the first two games of the series, was looking for its first three-game winning streak this season. The Royals won for just the third time in 12 road games.
"It was a good day for us," Muser said. "We won the ballgame, and hopefully the offense straightens itself out."
The announced crowd of 11,083 was the second-lowest for a Devil Rays' home game.
Notes: Suzuki entered 0-3 with a 6.65 ERA in seven previous games against Tampa Bay. ... Brown's parents attended the game. ... Royals OF Jermaine Dye (left knee bruise) and INF Luis Alicea (right hamstring) were out of the starting lineup. Muser said Dye could play Friday, while Alicea might get another day off. ... Huff snapped an 0-for-17 slide with his fifth-inning double. ... Johnson extended his career-high hitting streak to nine games.
Copyright 2018 The Associated Press. All rights reserved. This material may not be published, broadcast, rewritten or redistributed. We strive to uphold our values for every story published.