Danny Fox spent a couple of hours out at Kansas Speedway last weekend.
He sat through a brief class, took a few laps around the speedway's 11/2-mile tri-oval in a van, then strapped himself in a NASCAR Winston Cup stock car and drove himself around the course eight times.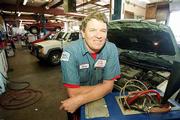 Total cost: around $600. Worthiness of the experience: priceless.
"It was wonderful," Fox, a Lawrence auto mechanic, said. "It would have to be one of the top two things I've done in my life."
And the other?
"I'm not too sure," Fox said with a laugh, "what that would be."
Fox was one of about 460 participants last weekend in the Richard Petty Driving Experience, which amounts to a roving fantasy camp for gearheads.
The Petty Driving Experience hits all the major tracks in the United States. More laps and more instruction are available at a higher cost. The programs range from the eight-lap Rookie Experience to the Experience of a Lifetime, a 30-lap course that costs $1,200.
"It's a thrill. I guarantee it," Fox said. "I'd like to do two, three laps and go in and ask a few questions. But it's a rush. Once you get in, you have to relax. The joke is, you can't hold your breath for eight laps. After about four laps, you'd better be taking a breath."
Fox's slowest lap took 52 seconds. He averaged about 130 mph, topping out around 145 mph on the straight-aways.
"You have a lead guy, a lead car," Fox said. "It's just you and him on the track. If you stay close enough to him, he'll take you to a speed he thinks you can handle. If you're going too fast, he'll flag you to slow down. I never got to that point."
The Petty Driving Experience workers encourage speed. In fact, drivers run afoul of the flagman if they don't put the car in its top gear soon enough.
"It's flying," Fox said. "The deal is, straight-aways aren't the thing. Going around a 180-degree corner at 120 mph is unbelievable. That's why you have seats that wrap around you. You're just getting pancaked on one side."
Fox was stunned by the car's handling.
"What's amazing is, the car actually follows the track," he said. "It basically pulls itself into a corner with just a little turn of the steering wheel. And talk about a great track one place I've been to has a big dip in it. There's not a ripple on her."
The full experience took about four hours. It included a short class and a quick trip around the course to point out the best line.
Fox said his 40-member class drew members from around the region.
"There are people there from all different kinds of jobs," Fox said. "You could tell the people who were used to driving a car versus the people who had no clue what's going on. I'd say I was in the upper class. I've been around race cars before, but never in a Winston Cup car. The horsepower was just unbelievable. You could be going 145 down the back straight, and if you floor it it sets you back in your seat."
Friends and family members of the drivers are encouraged to attend, and they can buy a ride-along trip around the track chauffeured by a pro. That experience costs another 100 bucks.
Fox would like to experience the Experience again.
"I looked into it, and they're already booked up through next July," he said.
The next experience probably will be on Fox's dime. Last weekend came courtesy of his in-laws.
"I had talked about it for a while, but never did it," he said. "My in-laws bought it for me for Christmas. It's the best Christmas present I ever had."
Copyright 2018 The Lawrence Journal-World. All rights reserved. This material may not be published, broadcast, rewritten or redistributed. We strive to uphold our values for every story published.