Maybe all Italian food qualifies as comfort food the good stuff that soothes the spirit as it nourishes the body so you'll probably think I'm as nutty as pinoli to stand up and declare Spaghetti alla Carbonara the ultimate Italian comfort food.
What, you ask, are you crazy? Are you trying to start something? How can there be such a designation in such a crowded field?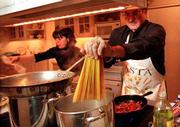 There are all those wonderful dishes your mama or somebody's mama used to make: pizza, minestrone, spaghetti and meatballs, pasta fagioli, polenta and lasagna.
They all could compete for the heavyweight title of Ultimate Italian Comfort Food. They all warm the soul and fatten the thighs.
But I've investigated this metaphysical realm thoroughly Italian food and the soul, especially the food part and that's my conclusion: Once you've experienced Spaghetti alla Carbonara, it's hard to find as much comfort in anything else.
Carbonara is a rich dish made from simple ingredients eggs, butter and/or olive oil, cheese, bacon and, once these elements become entangled with hot pasta, they touch the deep senses.
When I inhale a freshly cooked carbonara, I feel as though I've returned to some ancestral kitchen on a little farm in the Roman countryside.
OK, maybe you don't buy the channeling bit. I agree: It's a little too loopy, in the Shirley MacLaine sense. So let me run this past you: Maybe I take comfort from this dish because it blends a staple of my Italian ancestors spaghetti with a staple of America bacon and eggs.
In fact, it could be the Ultimate Italian-American Dish.
I'm not the first to proffer this concept. In 1983, Calvin Trillin, author of "Third Helpings" and "Alice, Let's Eat," felt such passion for Spaghetti alla Carbonara that he crusaded to have it replace turkey as the national dish on Thanksgiving Day.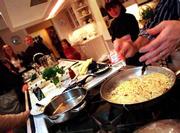 Consider what some historians accept as the origin of carbonara: In the waning days of World War II, U.S. soldiers in Rome made nice with local families, gave them fresh eggs and bacon and asked them to prepare meals.
The locals added the pasta and grated cheese, thereby either inventing a dish or reviving one that previously had little exposure among Americans.
Others believe the dish is much older than that, cooked on open fires by charcoal makers thus its name.
I've also heard the theory that crispy, carbon-black bacon is what gives the dish its flavor and name.
Whatever its origins some say it is unmistakably Roman, others say it originated in the Lazio region Spaghetti alla Carbonara is a wonderful treat.
It offers a welcome break from the tiresome tomato sauces that coat most other popular Italian dishes. It's just not the usual Ragu.
Copyright 2018 The Lawrence Journal-World. All rights reserved. This material may not be published, broadcast, rewritten or redistributed. We strive to uphold our values for every story published.