Scheduled maintenance Tuesday knocked out traffic lights at a major Lawrence intersection, and one motorist said lack of a police officer directing traffic might have caused confusion and an injury accident.
"I would like to have seen an officer there," said Jonathan Tempel, a Kansas University student who drives through the intersection on his way to class every day. "In the future, if they have to repair the lights at a major intersection, they ought to at least have an officer during the heavy traffic times of the day."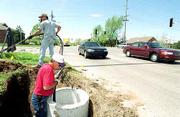 Tempel referred to a collision shortly before noon Tuesday at the intersection of 15th Street and Kasold Drive, where temporary stop signs were placed while the lights were being repaired. A 30-year-old man was taken to the hospital with what police and first responders called "minor injuries."
A police supervisor said the victim's car, which was traveling south on Kasold Drive, was struck by a car driven by a 62-year-old woman who was headed west on 15th Street.
The woman failed to stop at the stop sign, the supervisor said. It wasn't clear whether the inoperative lights played a part in the accident.
Eight stop signs were placed at the intersection in each median and in the roadway between lanes of traffic, city traffic engineer David Woosley said.
The traffic lights were off because workers were repairing wiring problems identified weeks ago. The signals were working again Tuesday evening.
Woosley said the stop signs should have been an adequate temporary replacement for traffic lights.
"If drivers pay attention, there shouldn't be any problems," he said.
Copyright 2018 The Lawrence Journal-World. All rights reserved. This material may not be published, broadcast, rewritten or redistributed. We strive to uphold our values for every story published.