Orlando, Fla. — Using coupons she got from an airline and a hotel, Judith Morales saved $18 on theme park entrances during a four-day visit to Orlando with her daughter and husband.
"Discount is better," the tourist from Yonkers, N.Y., said outside a T-shirt shop.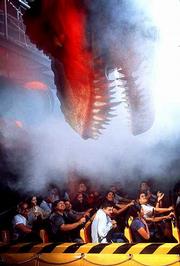 The average admission price for an amusement park in 2001 is an all-time high $40.23, an increase of $3.20 over last year, according to an annual survey by the trade publication Amusement Business.
But with higher prices, park officials say they have greater flexibility to offer discounts. More visitors are taking advantage.
"The prices are rising, but in reality those prices are moot because there are so many discounts available," said Tim O'Brien, senior editor at Nashville-based Amusement Business.
With season passes, AAA discounts and after-hours prices, anywhere from 85 percent to 90 percent of amusement and theme park visitors get discounts at parks nationwide, O'Brien estimates.
Walt Disney World, for instance, currently offers Florida residents four days' admission to all four of its theme parks for $99 plus tax. One-day admission to a single park usually costs $50.88 with tax.
SeaWorld Orlando and Busch Gardens Tampa Bay, both owned by Anheuser Busch, are in the second year of a major discounting program. Florida residents who paid a full entrance fee during the first three months of the year can have unlimited return visits to the park except for a few blackout days. The discount program also is available at SeaWorld San Diego.
Other parks are catching on.
Paramount's Great America in Santa Clara, Calif., is introducing a similar discount program, the WOW Card, which accounts for its admission price increase this year of $6 to $43.
Parks such as Cedar Point in Sandusky, Ohio, tend to discount more heavily during the spring and fall when attendance is lighter.
The park's largest discounting program this year offers $10 to $13 off the $39 admission fee to visitors who bring a Pepsi can with a Cedar Point promotion on it. A majority of the park's visitors get in on some discount, said spokeswoman Janice Witherow.
Most parks will tell visitors who call their guest relations office where they can find discounts because they want to create traffic between their promotional partners and the park.
"The coupons are out there if you're aggressive about it," O'Brien said.
Copyright 2018 The Associated Press. All rights reserved. This material may not be published, broadcast, rewritten or redistributed. We strive to uphold our values for every story published.