Salt Lake City — After more than half a century, Smokey Bear has a new twist to his message after fire prevention in the wilderness.
A television commercial unveiled Monday juxtaposes two scenes: two 20-something couples roasting marshmallows by a campfire, and a crime scene chalk outline that appears to foreshadow their demise. Someone douses the fire with water and dirt before the outline reveals the shape of a deer.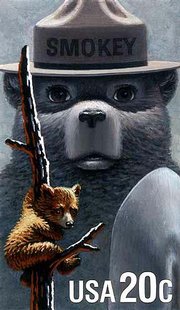 "Each year thousands are senselessly killed by people with no criminal record at all, people like you," the announcer says as Smokey's face appears on the screen. "Only you can prevent wildfires."
For 54 years, Smokey's pitch had been: "Only you can prevent forest fires."
The change is a way to broaden awareness that fires can burn more than trees, the U.S. Forest Service said.
"Wildfires are much more than just forests because they includes grasslands and forested lands, as we learned last year," said Donna Wilson, a spokeswoman for the Wasatch-Cache National Forest, in the mountains to the east of Salt Lake City.
National networks are expected to begin airing the commercial in May.
Copyright 2018 The Associated Press. All rights reserved. This material may not be published, broadcast, rewritten or redistributed. We strive to uphold our values for every story published.