Deafness can be a competitive advantage for sprinter Anthony Singleterry.
Light travels faster than sound, and a deaf person concentrating on the flash of the starter pistol has a chance of getting out of the block sooner than a hearing athlete with head down listening for the crack of a gun.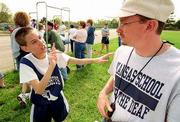 Singleterry, an eighth-grader at Kansas School for the Deaf, relied on that sense of vision to get out of the blocks quickly Tuesday for a 100-meter dash time of 13.21 seconds. It was good enough for second in the preliminary heat.
"My best," said Singleterry, a Wichita native who lives at the Olathe school.
He joined dozens of seventh- and eighth-grade athletes from KSD, West Junior High School, Central Junior High School and Junction City Junior High School for a track-and-field showdown at West's track.
KSD students competed for more than ribbons, track coach Gina Ley said.
"This is an opportunity to have experiences with hearing kids," she said. "They can say, 'I'm a peer. I'm equal. I'm not on the outside.'"
"The deaf can be just as good as hearing athletes," said Mark Kerns, KSD's other track coach.
It's a challenge to include a large number of deaf students in a track meet. Flags are needed to replace whistles when assembling athletes. Interpreters many of them were students enrolled in American Sign Language class at Kansas University need to be on hand to direct athletes, explain rules and coordinate events.
Kester Marsh, who teaches sign language at KU and Free State High School, said lack of communication could undermine the event.
"In the past, they had a fiasco with kids missing events or not finding out their times," he said.
To ease the pressure, Marsh organized volunteers from his sign-language classes. He matched the signing students with KSD athletes. Parents of KSD students also helped with signing.
Gwen Singleterry, Anthony's mother, said overcoming sound barriers had significant rewards for all students at a track meet. Hearing and deaf students can interact, she said. She also said deaf students could get a self-esteem boost.
"It lets them be proud of themselves," she said.
Jeremy Stockman, a seventh-grader at KSD from Kansas City, Kan., said he enjoys track because it was a chance to get outside on a nice day and have fun.
"My only problem is with the hurdles. I knock them down," Stockman said through interpreter Theresa Freed.
Copyright 2018 The Lawrence Journal-World. All rights reserved. This material may not be published, broadcast, rewritten or redistributed. We strive to uphold our values for every story published.