Hutchinson — Eighteen more holes made little difference for Kansas.
The Jayhawks were in seventh place 22 strokes behind first-place Baylor before the third round of the Big 12 Men's Golf Championship on Tuesday at Prairie Dunes Country Club.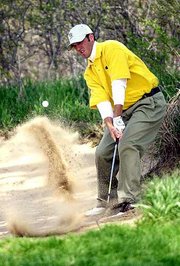 After the final round, No. 34-ranked KU still was seventh, 39 strokes behind the league-champion Bears.
It was KU's worst finish in the Big 12's five-year history.
"We shot a little bit better, but we didn't play very well," said 22nd-year KU coach Ross Randall, whose team won the league title in 1999 and was runner-up last year. "I don't think I've ever had a team where all five of them played poorly at the same time."
Kansas led by three strokes after Monday morning's opening round - which was played in 30-mph winds with a 307 team score. But KU shot a 321 in the afternoon round and fell out of contention.
Warmer temperatures and milder winds led to lower scores for the Jayhawks on Tuesday, but their opposition played better, too.
Senior Conrad Roberts, who shot a 4-over 74 and led KU with a 232 total, said the Dunes were still challenging in the final round.
"The wind wasn't as bad, but the greens were a little bit faster," said Roberts, who tied for 20th place. "The pin placements were very difficult. I don't think there were many low scores today, either."
Sophomore Chris Marshall, playing with a badly sprained, heavily taped left ankle for the second straight day, carded an 80 and finished tied for 29th at 235.
"He never complained, but I'm sure that bothered him,'' said Randall, whose team finished at 933, 93 strokes over par.
Junior Casey Harbour was 38th at 238 after a final-round 75. Junior Travis Hurst tied for 39th at 239 after a 75, and senior Andy Stewart tied for 40th at 240 after an 83.
Stewart was the first-round co-leader with Baylor's Worth Williams before struggling home with an 85 in the second round.
"We kind of blew ourselves out of the tournament yesterday," Roberts said. "We just have to forget about this. We're disappointed, but there's bigger fish. Regionals is very important, and nationals is our goal."
Kansas has until May 17 to prepare for the NCAA Midwest Regionals at Karsten Creek Golf Course in Stillwater, Okla.
While the Jayhawks were thinking about what went wrong, unranked Baylor was celebrating its first league title since the Bears won the Southwest Conference tournament in 1966.
Williams, who shot a 1-over 71 Tuesday, led the way with 5-over 215. The senior led after all three rounds en route to his first college title.
"This course is so hard," he said. "Five-over felt like 10-under."
Williams had finished in the top 10 only once in seven previous tournaments this year. His stunning victory made him the first Bear to take medalist honors in a conference tournament since John Thornton tied for first at the 1955 SWC tournament.
Williams' 215 was eight strokes better than second-place finishers Kelsey Cline of Oklahoma and Par Nilsson of Oklahoma State.
Baylor senior Jimmy Walker was fourth at 224. Senior Brandon Sanders, who was the first Bear to finish in the top 10 of a Big 12 tournament when he was eighth last year, finished tied for fifth at 226.
"These guys have worked so hard for four years," said BU coach coach Tim Hobby, whose squad was picked sixth by the league coaches but came through with a 894 team score. "This was my first recruiting class."
No. 16 Oklahoma and No. 5 Texas tied for second at 904. The Longhorns who won seven straight SWC titles between 1989-95 finished as Big 12 runner-up for the third time.
The Longhorns' hopes dimmed when J.J. Wall (79) and Matt Brost (76) faded on the back nine.
No. 49 Colorado was fourth at 905. CU's fate was sealed when Kane Webber posted an eight on No. 16 near the end of a round of 4-over 74. He finished tied for seventh at 227.
No. 11 Oklahoma State, which had won three of four Big 12 titles and 38 of its last 43 league tournaments, was fifth at 912.
Texas A&M; was sixth at 927, six strokes ahead of Kansas.
"Hopefully, we'll do a lot of rebounding before regionals," Randall said, "and I think we will."
Copyright 2018 The Lawrence Journal-World. All rights reserved. This material may not be published, broadcast, rewritten or redistributed. We strive to uphold our values for every story published.