Topeka — Spring brings warmer weather and usually a drop in the state's unemployment rate.
That was the case again this year.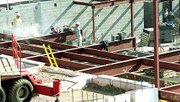 The jobless rate dipped to 3.7 percent in March, unchanged from a year earlier but down from 4.1 percent in February, the state Department of Human Resources reported Tuesday.
In the Lawrence area defined as Douglas County the rate was 3.9 percent last month, unchanged from a year earlier and down from February's 4.1 percent.
The department expected the decline in unemployment since February. Bill Layes, its chief of labor market information, noted that warmer weather brought with it the resumption of construction, lawn care and recreation jobs.
Also, the department noted that March saw a surge in government employment, which it attributed largely to the hiring of workers for municipal and school board elections.
Layes noted that the unemployment rate had dropped from February to March in 17 of the past 20 years.
And in April, he said, "It's likely to stay the same or drop a little."
The department said 1,388,303 Kansans held jobs last month, while 53,870 were seeking work. About 7,900 more people were working than in February, and about 4,700 fewer people were unemployed.
Construction companies added 2,800 jobs in March, while government hiring increased by 4,000 in the month. Employment by service firms also increased by 3,100.
In Lawrence, sectors adding jobs included government, 800; wholesale and retail trade, 200; construction, 200; and services, 100. Losing personnel were manufacturing, down 100; and transportation and public utilities, down 100.
Copyright 2018 The Associated Press. All rights reserved. This material may not be published, broadcast, rewritten or redistributed. We strive to uphold our values for every story published.