Philadelphia — The first half was Reggie Miller's. The game belonged to Allen Iverson.
Iverson scored a career playoff-high 45 points, including 19 in the third quarter, as Philadelphia overcame Miller's 41 points, beating Indiana, 116-98, Tuesday night to even their first-round series at 1-1.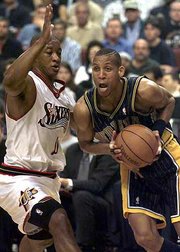 Game 3 of the best-of-five Eastern Conference quarterfinals is Saturday in Indiana.
"I'm going to remember this game for a long time," said Iverson, who also had nine assists. "I've been playing a lot off my God-given ability. This game took a lot of thinking. I'm pleased with my mental aspect coming into the game... When guys doubled me, I found my teammates and they hit the shots. I don't think I forced too many things."
Aaron McKie had 19 points and George Lynch added 16 for Philadelphia, which finished as the top team in the East for the first time since 1983-84.
Jalen Rose had 18 and Jermaine O'Neal added 11 points and 11 rebounds for the Pacers, who were down just 61-59 at halftime after getting 33 from Miller.
"I wish it was reversed," Miller said. "The game is four quarters. I hate doing things early. I like doing it late."
Iverson scored 14 of Philadelphia's final 17 points in the third, including the last 10. He drilled a 17-footer, another long jumper and hit a 3-pointer to give the Sixers their biggest lead to that point, 88-76, with 1:11 left.
After Rose hit a jumper, Iverson nailed another 19-footer as the sellout crowd of 20,739 at the First Union Center chanted "MVP, MVP" for the league's scoring champion.
Iverson pumped his fist, raised his arms and cupped his ear, imploring the fans to make more noise before he finished the quarter at the foul line, giving the Sixers a 91-78 lead on a free throw.
Indiana didn't get closer than 10 in the fourth.
"It was a phenomenal performance and it took that," Sixers coach Larry Brown said of Iverson's play.
Miller, whose three-pointer with 2.9 seconds left in Game 1 lifted the Pacers to a 79-78 comeback victory, opened the game with a three-pointer and proceeded to hit shots from all over the court.
He scored seven straight points three different times at the start of the game, midway through the first and to begin the second.
Four Sixers Eric Snow, Kevin Ollie, Iverson and McKie tried to guard Miller in the first half and none could stop him.
Even Pacers coach Isiah Thomas was excited after Miller's running jumper gave Indiana a 39-37 lead midway through the second. The normally reserved Thomas clapped his hands and low-fived Miller as he ran down the court.
But Miller missed all three of his shots in the third and scored only two points on free throws as Iverson took over, helping the Sixers break open a tight game.
Miller finished 14-of-22, including 3-for-5 from three-point range. Iverson was 15-of-27, including 3-for-7 from beyond the arc.
"They did a good job of recognizing where Reggie was (in the second half)," Thomas said. "They were double-teaming him and we didn't do a good job of finding the open guys inside."
Copyright 2018 The Associated Press. All rights reserved. This material may not be published, broadcast, rewritten or redistributed. We strive to uphold our values for every story published.