HOISINGTON — Three days after a deadly tornado tore through here, city leaders intensified efforts to bring in the millions of dollars it will take to rebuild their community.
Lt. Gov. Gary Sherrer's visit Tuesday to this community of 2,975 brought the most visible hope for some state relief. However, it was the behind-the-scenes work to garner a presidential disaster declaration that held the promise of the most dollars.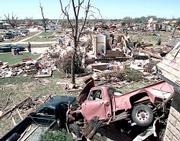 Everything the community can do to broaden the assistance will "build the community that much faster and better," city manager Allen Dinkel said.
On Tuesday, state and federal disaster teams were still tallying damage estimates to submit for a federal declaration.
The twister hit the city's hospital, high school and the only grocery store, among several other businesses.
One person was killed and 28 were injured.
A preliminary damage estimate shows 182 residences were destroyed and 52 others had major damage. In all, 569 dwellings were damaged by the storm, all but 10 of them single family dwellings. The other 10 included four multiple family dwellings and six mobile homes. Two of the mobile homes were destroyed.
Of the single-family dwellings, 179 were destroyed, 51 had major damage, 175 had minor damage and 154 had some damage.
Some may never rebuild here. Among those who lost their homes was Wilma Morgenstern, 81.
She hadn't been home since the tornado hit Saturday. In the darkness that night, as a broken gas line whistled nearby, rescuers pulled her to safety.
She and her 86-year-old husband, Martin, had been trapped in the basement.
As the storm threatened Saturday night, the couple stood in front of a basement fireplace, and they braced themselves. They held each other tightly. Three times, the suction pulled them apart.
Every time, they reached out and grabbed each other.
As she looked at her house for the first time on Monday, she cried.
"It's all gone," she said, her lip trembling.
She could see the destruction even with her diminished eyesight. Some walls of her yellow brick home had tumbled. A tree limb jutted into the living room, opened to the sky. Shredded curtains flapped from gapping windows.
Now they will make a new home, perhaps in nearby Great Bend.
For more than two days, Wilma Morgenstern has cried over her lost home.
She had to grieve for it. Now, she said, "I accept it. We were saved. That's the main thing."
Copyright 2018 The Associated Press. All rights reserved. This material may not be published, broadcast, rewritten or redistributed. We strive to uphold our values for every story published.