Washington — Upholding the jailing of a woman for not wearing a seat belt or having them on her two children, the Supreme Court gave police broad authority Tuesday to arrest and handcuff offenders for minor crimes punishable by fines.
Dividing 5-4, the court acknowledged that a police officer in an Austin, Tex., suburb exercised "extremely poor judgment" and caused "pointless indignity" for the mother, Gail Atwater. Nevertheless, Justice David Souter declared for the majority that the Fourth Amendment, which protects individuals from unreasonable searches, "is not well served by standards requiring sensitive, case-by-case determinations of government need."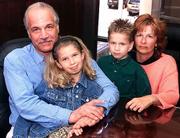 Otherwise, he said, "every discretionary judgment" by a police officer could be "converted into an occasion for constitutional review."
But dissenters, led by Justice Sandra Day O'Connor, said the record in the case made it abundantly clear that the 1997 arrest of Atwater in suburban Lago Vista, Tex., was "constitutionally unreasonable."
O'Connor, who was clearly sympathetic to Atwater, whom she believes suffered a "pointless indignity," also noted the potential ramifications of the ruling for a variety of law-enforcement situations, including traffic stops based on race. Signing her opinion were Justices John Paul Stevens, Ruth Bader Ginsburg and Stephen Breyer.
Atwater was stopped while driving home from a soccer game with her 3-year-old son and 5-year-old daughter. She said that one child realized that a favorite toy had fallen out the window, prompting Atwater to double back. The mother claimed that the children were previously wearing belts but that she let them take the belts off so they could look out the pickup's windows.
Not wearing a seatbelt is a misdemeanor punishable under Texas law by a fine of $25 to $50. Police Officer Bart Turek, who had observed the pickup and the seat belt violations, pulled Atwater over and found she was without her license and insurance documentation.
According to Atwater, Turek approached her pickup truck and "yelled" something to the effect that "we've met before" and "you're going to jail." Atwater next asked to take her frightened children to a friend's nearby home, but was told "you're not going anywhere." After a friend arrived to take the crying children, Turek handcuffed Atwater, placed her in the squad car and drove her to the police station.
Booking officers took her mug shot and confined her to a jail cell for an hour alone. Afterward she appeared before a magistrate who ordered her released on $310 bond.
Eventually, Atwater pleaded no contest to the misdemeanor seatbelt offenses and paid a $50 fine. Later, she and her husband filed a civil rights suit against Turek and Lago Vista.
Copyright 2018 The Lawrence Journal-World. All rights reserved. This material may not be published, broadcast, rewritten or redistributed. We strive to uphold our values for every story published.