This quick and easy recipe comes from a book to warm the hearts of the legions of cooks and diners who love chicken.
Breaded Chicken Cutlets With Chopped Tomatoes and Arugula is one of a tasty variety of chicken recipes in "The Artful Chicken" (Stewart, Tabori & Chang, $29.95), a new cookbook by Linda Arnaud. She includes some egg recipes, too.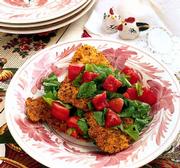 Color photos by Michel Arnaud on nearly every page of the book focus on chicken objects as well as chicken dishes showing an entertaining range of items, many belonging to his wife's collection of ceramics, tableware, textiles and art work.
The writer explains that her recipe is a variation on a classic Milanese dish of veal cutlets, which are breaded, fried and topped with chopped tomatoes and greens. In this version, chicken breasts replace the veal, and are then topped with arugula and tomatoes.
Once you have gathered and prepared your ingredients, cooking takes only a few minutes.
Chicken Cutlets With Chopped Tomatoes and Arugula


3 chicken breasts, boned, skinned, halved and pounded into 1/4-inch-thick cutlets (6 pieces)
Flour
2 eggs, lightly beaten
1 cup to 1 1/3 cups focaccia bread crumbs, or other herbed bread crumbs
4 tablespoons olive oil, plus additional oil for serving
6 medium vine-ripened tomatoes, diced into large pieces
3/4 pound arugula, coarsely chopped
White wine vinegar
6 tablespoons finely chopped fresh basil (optional)
Wedge of Parmigiano-Reggiano or pecorino cheese (optional)
Dredge the chicken cutlets in the flour, then dip them into the egg, letting the excess drop off. Coat the pieces thoroughly with the bread crumbs.
Heat half of the oil in a heavy skillet that will hold three cutlets comfortably. When the oil is hot enough to sizzle, add the first batch of cutlets and fry them until the coating is evenly golden brown and the chicken is done, two to three minutes on each side. Adjust the heat as necessary. Set the cutlets aside. Add the remaining oil to the skillet and repeat the process with the remaining cutlets.
Arrange the chicken on individual serving plates. Divide the arugula and tomatoes over the cutlets. Pass the olive oil, vinegar, basil and cheese at the table. The dish may be served warm or at room temperature.
Makes six servings.
Copyright 2018 The Associated Press. All rights reserved. This material may not be published, broadcast, rewritten or redistributed. We strive to uphold our values for every story published.