A head-on traffic accident Monday morning south of Lawrence left a Lawrence High School student dead and seriously injured a Lawrence woman.
Peter Swalm, 18, who lived in southwest Douglas County with his parents, was pronounced dead at the scene.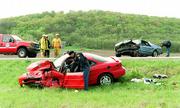 Kristi Sanchez, Lawrence, was transported to Kansas University Medical Center in Kansas City, Kan., by Life Star helicopter. There was no report about her condition as of early Monday afternooon.
The accident happenned around 8 a.m. about two miles south of Lawrence on Douglas County Road 458, according to a statement issued today by Douglas County Sheriff Rick Trapp.
Swalm, a senior at LHS, was driving east when his car collided with Sanchez's car, which was travelling west on the two-lane road, Trapp said. Authorities were notified at 8:08 a.m.
The accident is under investigation by Douglas County deputies and by the sheriff's accident investigation unit.
The sheriff's office, Lawrence Douglas County Fire & Medical units and the Wakarusa Township Fire Department responded to the scene.
Copyright 2017 The Lawrence Journal-World. All rights reserved. This material may not be published, broadcast, rewritten or redistributed. We strive to uphold our values for every story published.