Washington — Blunt-talking Michele Forman, the 2001 teacher of the year, says teachers need more encouragement and support.
"Entering the teaching profession has never been easy," said the social studies teacher at Middlebury Union High School in Vermont.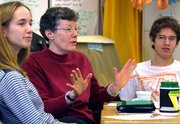 To make matters worse, she said, school systems are not doing enough to mentor young teachers. That leads to "endemic" burnout and isolated instructors who quit before they hit their stride and can excel.
Forman, who is freed from classroom duties for a year, will be introduced in a White House ceremony with President Bush today.
The National Education Assn., a major teachers' union, reports that 20 percent of new hires leave teaching within two years, and only half of new teachers in urban public schools are still teaching after five years.
"Our profession of teaching is one of the few that eats its young," Forman wrote the selection committee, made up of representatives from 14 national education organizations, that picked her from among each state's teacher of the year.
For the next year, Forman plans to travel the country and speak on behalf of teachers a prospect that excites her.
"I certainly don't have all the answers, but I'd love to be part of the conversation," she said.
A native of Mississippi, Forman, 55, got her start in 1967 as a health instructor for the Peace Corps in Nepal. She has lived in Vermont for the past 31 years and has put in 23 years as a teacher 15 of them the Middlebury school.
But Forman is concerned about many schools' increasing reliance on high-stakes tests to gauge whether students are learning.
"If anything concerns me, it's the oversimplification of something as complex as assessment," she said. "My fear is that learning is becoming standardized.
"Learning is idiosyncratic," she said. "Learning and teaching is messy stuff. It doesn't fit into bubbles. I don't think a simple pencil-and-paper test is going to capture what students know and can do."
Copyright 2018 The Associated Press. All rights reserved. This material may not be published, broadcast, rewritten or redistributed. We strive to uphold our values for every story published.