Kfar Saba, Israel — A Palestinian suicide bomber blew himself up at a crowded suburban bus stop Sunday, killing an Israeli doctor and wounding 50 people a day after Israelis and Palestinians met in a bid to prevent such acts of violence.
Israel's Prime Minister Ariel Sharon accused the Palestinian leadership of not doing enough to prevent such attacks, and the slim prospect of renewed security cooperation between the two sides appeared to be evaporating with the latest outburst of violence.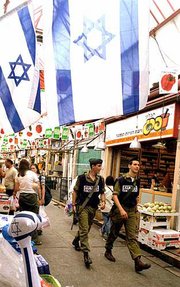 "The Palestinian Authority is not acting to foil terror attacks and continues its violent activities and incitement in an effort to reach its political goals," Sharon was quoted as saying by his office.
Dismissing speculation that Palestinian leader Yasser Arafat was losing his authority in the Palestinian areas, Sharon said Arafat "has strategic control over what is happening."
Israeli and Palestinian security chiefs held four hours of talks Saturday night with the aim of restoring some of the joint security efforts that have broken down during seven months of fighting.
But on Sunday, the attacker set off the bomb just after 9 a.m. as a bus stopped to pick up passengers along a busy street in the middle-class suburb of Kfar Saba, police said.
"When the bus arrived, a suicide bomber approached it and leaned against it while setting off a device," police commander Yehuda Bahar said.
"Everyone was hysterical. I saw people pushing to get out the back door of the bus and I saw the driver on the ground covered with blood," witness Noam Baraket said.
Mario Goldin, a 53-year-old Israeli doctor, was killed in the attack. Most of the 50 people wounded were only lightly injured, though a 14-year-old Israeli boy was badly hurt, a hospital said.
Two bombs went off last week in Kfar Saba, but no one was killed. The suburb is northeast of Tel Aviv, only a few miles from the Palestinian-controlled city of Kalkilya in the West Bank. Israel had stepped up security in the area following the recent bombings.
Later Sunday, an explosive device went off, lightly injuring three policemen near a major northern intersection outside the port city of Haifa. The device exploded while a police sapper tried to defuse it. The police said the incident was politically motivated.
Israel has been rocked by repeated bombings carried out by militants since the Palestinian uprising began last fall. Sharon has pledged swift and harsh retaliation, and Israel has carried out several raids in recent weeks following mortar attacks by Palestinians.
No one claimed responsibility for Sunday's bombing, though militant Palestinian groups have either taken responsibility or been blamed by Israel for recent attacks. To date, 478 people have been killed in the fighting, including 394 Palestinians, 65 Israeli Jews, and 19 others.
Copyright 2018 The Associated Press. All rights reserved. This material may not be published, broadcast, rewritten or redistributed. We strive to uphold our values for every story published.