HOISINGTON — Almost all night, Joyce Tauscher wandered aimlessly through the dark, debris-strewn streets of this central Kansas town.
Two hours after a tornado tore a path six city blocks wide and a mile long, searchers found the body of her 69-year-old husband, Gerald, embedded in the ground underneath the minivan in their back yard.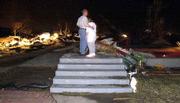 Greg Gardner, adjutant general for Kansas, said 200 buildings were destroyed by the twister, classified as an F-4, that hit Saturday night in this town of 2,900 people, 100 miles northwest of Wichita. Another 85 were severely damaged, and 200 more received minor to moderate damage.
The roof was blown off the high school auditorium and the local hospital had to be evacuated. Authorities said 28 people were injured, and one remained in critical condition Sunday.
"This is a scene that is, unfortunately all too familiar to many of us. We are absolutely struck by the severity of this storm," said Gov. Bill Graves, who on Sunday toured Hoisington. "It is hard to describe how devastated the community is."
Emergency officials said Sunday flooding was becoming a concern on the south side of Hoisington. About 5 inches of rain fell during Saturday night's storm, and rising water had begun to creep into residential areas on Sunday.
All that remained of Joyce Tauscher's home was the empty basement where the 60-year-old woman sought shelter moments before the tornado swept through her neighborhood. Her husband of 42 years never made it downstairs.
As the storm outside steadily worsened, the station her husband was watching reported that the brunt of the storm was 7 miles north of them.
It was the couple's son in Virginia, on the phone with his mother, who pulled up the forecast on the Internet, and warned Joyce Tauscher that the storm was getting nasty.
'They will sound the alarm'
But Gerald Tauscher was unconcerned when his wife asked if they should seek shelter in their basement.
"There is no hurry," he told her. "They will sound the alarm when it is bad."
It was the last thing she ever heard him say.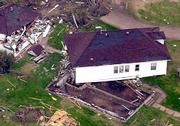 The warning sirens were not activated until after the tornado had hit, Barton County Sheriff Buck Causey said.
The sirens were never heard in Tauscher's neighborhood, possibly because the power had gone out, neighbors said.
For an hour before the tornado struck, Causey and another officer had gone outside the city limits to watch for weather developments coming closer to town. They saw only low clouds and lightning.
"Nobody saw this tornado," Causey said. "Nobody saw it coming."
City Manager Allen Dinkel said it is standard procedure for law enforcement officers to decide whether to sound the tornado sirens.
A grim dawn
It would be dawn before the Tauschers' daughters, Janet Tauscher of Kansas City and Patti Mootes of Denver, made it to town. Their son, Tony, was en route by car Sunday from Virginia, still unaware his father was dead.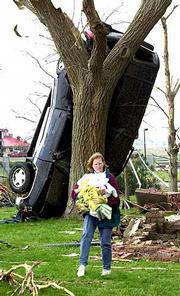 The drizzling rain mixed with the women's tears as they stood outside a police barricade Sunday morning and saw the devastation of their neighborhood in the first light of day. In the distance, they could see search teams and dogs combing through the rubble for other bodies or survivors. They found neither.
"It is amazing I survived that," Joyce Tauscher said.
For Hoisington's high school students, it was an unforgettable prom night. Students were sent to a basement tornado shelter, and the building they were in was undamaged.
"It was calm for a while, and then everybody's cell phones started going off," said Eric Steiner, 17. That set off a panic as tearful students tried to find their families.
When the tornado hit, Steiner's parents were at the Dairy Queen, which was destroyed. Steiner's father, Leon, manages the store, and was on the phone at the time.
Five of the nine people in the Dairy Queen made it to the walk-in freezer for shelter as the building collapsed around them. Leon Steiner suffered a minor cut on his arm. A woman at the store was taken to a hospital, but she did not have critical injuries.
'Right away, I knew'
Melvin Kaiser, who lived next door to the Tauschers, fought back tears Sunday as he waited to get back to his home. All that was left was a floor and two walls. His wife was taken to a hospital, but was doing well.
The couple never would have gone to the basement during the storm, Kaiser said, if his 24-year-old son Tyler had not insisted they go down with him.
"I don't know why we went down there. ... We laughed about it almost didn't go," Kaiser said.
As for Joyce Tauscher, she went down to the basement after a door to her house blew open. As she closed it, the house vibrated and she hollered to her husband to get down to the basement. She made it down just as the staircase was ripped out and hit the furnace, which toppled on top of her.
"Then all of a sudden, all of it disappeared. The wind took it away from us," she said. "I looked and my house was totally gone."
She climbed out of the basement and began calling for Gerald. "Right away, I knew my husband was gone."
She stood there just holding a flashlight in the dark, hoping someone would see her. "I didn't know what to do," she said.
Sunday morning, as she waited for police to let her return to what was left of her home, she spoke about needing to buy clothes for her husband's burial. Then, she began sobbing.
"You just can't comprehend; 42 years of your life is gone," she said. "I have nothing."
Copyright 2018 The Associated Press. All rights reserved. This material may not be published, broadcast, rewritten or redistributed. We strive to uphold our values for every story published.