Let's vent about the Web: It's slow. Pesky ads pop up way too often. It threatens our privacy. Try searching for information you need and you'll get swamped by 375 answers, most of them useless.
What a waste, right?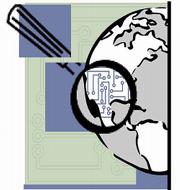 True enough, but let's consider the Web on a good day. With the right sites, and some good karma, you can find all sorts of useful information and even discover little treasures.
To prove the point, we've gathered a sampling of places to go and things to do on the Web that (usually) prove worth our time and clicking.
Flights
You have to pick up someone at the airport and want to see if the flight is on time. If you call an airline, you might get an answer, provided you escape voice-mail hell.
The Web makes it so much easier. Just click on FlightTracker at trip.com, for example. You can check by airline or flight number. Maps show where a plane is on its route, with the expected arrival time. If you don't have the flight number but know the departure city and approximate time it took off, the site will help you find it.
Many airline sites provide similar information, and flytecomm.com also offers the weather conditions for flights.
Food
Finding a good restaurant on the road can be tough. Or maybe you have a few hours to kill between meetings and want something to do. Online city guides come to the rescue, whether it's in a strange town or near your neighborhood.
Citysearch.com offers a smorgasbord of information on more than 80 cities nationwide, with listings of arts, attractions, restaurants, hotels, movies and shopping. It also has reviews, a reservation service and other features.
Search engines
Search engines have a tough job. None reaches all of the billions of Web pages out there. And even as the engines get better, the Web grows bigger.
Our favorite is Google.com, which seems to be the best at finding what we're seeking. Its search is based on the popularity of sites, which weeds out the truly obscure. Yahoo.com is actually a directory compiled by humans rather than a search conducted by technology. Yahoo has been at it a long time and has a substantial database.
Refdesk.com is a rich resource, indexing and linking to reference sites, news and other good information on the Web. For more traditional research, brittanica.com and encarta.com offer free online encyclopedias.
Among the places we send people looking for definitions of techno terms are webopedia.com and whatis.com.
Phone numbers
Telephone directory assistance provides a number, usually for a small fee, and will dial the number, for another fee. The Web can get the number, often with an e-mail address and a map of the neighborhood for good measure, without spending the pocket change.
Among our favorites in this category is 555-1212.com, which can search for phone numbers, ZIP codes and area codes, as well as do a reverse search that gives the listing if you have the number. Anywho.com has similar features, adding e-mail and Web searches. Whowhere.lycos.com has all of the previous and even an ancestry search.
Some sites, such as switchboard.com, let you look at a map of the neighborhood once you find the number. There are many sites dedicated to maps, such as mapquest.com and mapblast.com. The map sites also offer driving directions, though they tend to send you to interstates and main roads even if they're miles out of the way.
Copyright 2018 The Lawrence Journal-World. All rights reserved. This material may not be published, broadcast, rewritten or redistributed. We strive to uphold our values for every story published.