Day One of the NFL draft came and went without Moran Norris' name being called, and Norris faced an unenviable task when he ushered family and friends out the door of his childhood Houston home.
Norris, Kansas University's bull-strong fullback, had to ask everybody back for another day of gathering around the television.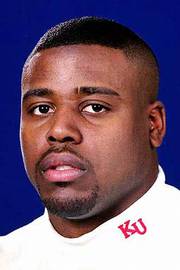 "I was disappointed (Saturday) when my name didn't get called," said Norris, whose wait ended late Sunday morning when he was tapped by the New Orleans Saints in the fourth round of the seven-round draft. "Everybody came over and everything. But they came back today and showed as much love as they did (Saturday). That made me feel good. Now I'm happy."
Norris, who graduated in December with degrees in communication studies and crime and delinquency, went to New Orleans with the 20th pick in the fourth round, 115th overall.
He is the first Jayhawk selected in the NFL draft since Ron Warner went in the seventh round in 1998, also to New Orleans. Norris is KU's highest pick since Ronnie Ward went in the third round to Miami in 1997.
"I wanted to go on the first day, but I'm happy I'll get the chance," said Norris, who, if he makes the team, will join former Texas standout Ricky Williams and Mississippi's Deuce McAllister, the Saints' first-round pick Saturday. "And it's close to home. It's only about a six-hour drive, 30 or 40 minutes if you fly. I grew up an Oilers fan, but I'm glad this is close to home."
Norris primarily was a blocking back his first years at KU, but midway through the 1999 season he stepped into injury voids and shed his reputation as a fumbler to finish with 107 carries for 537 yards and eight touchdowns.
Those numbers and his legendary weight-room work made Norris the top-ranked fullback in the nation in the preseason NFL Scouting Combine.
But the 6-foot-2, 245-pounder suffered a severe ankle sprain last season and finished with just 46 carries for 151 yards.
He turned heads at the NFL combine when he bench-pressed 225 pounds a whopping 37 times, and his on-campus visits by NFL scouts and coaches further boosted his stock.
"I really didn't know where I was going to go," he said. "A lot of teams were interested in me. The Saints called me three times (Sunday). They called to say they were going to pick me next, and I saw my name run across the screen. That was pretty exciting."
Norris will report to a four-day rookie minicamp on Thursday.
"I can't wait to get there," he said. "I'm really excited about this."
Copyright 2018 The Lawrence Journal-World. All rights reserved. This material may not be published, broadcast, rewritten or redistributed. We strive to uphold our values for every story published.