Kansas City, Mo. — Dan Reichert has shown Kansas City the stuff necessary to develop into a big winner.
Reichert allowed two hits in eight-plus innings, the longest outing by a Royals starter this season, and Mark Quinn and Mike Sweeney hit two-run homers as Kansas City beat Toronto, 5-1, on Sunday.
"Reichert can be a potential All-Star for me," Royals pitching coach Brent Strom said. "He has that kind of stuff, so sharp and so wicked. He's got to improve on his first pitch strike, so he doesn't fall behind hitters."
Reichert (2-1) allowed one unearned run, struck out six and walked five, leaving after throwing eight straight balls to open the ninth. Reichert lowered his ERA to 2.73 and his only loss was 1-0 to the Yankees' Mike Mussina in the third game of the season.
"Reichert to me could be a 20-game winner," said Roberto Hernandez, who got the final three outs for his fourth save in six opportunities. "Not only does he have a live arm, but he is very deceptive, where guys don't pick up the ball.
"When he's on, he's almost unhittable."
Reichert, who did not allow a runner past second base, said his slider was working late in the game and his sinker in the early innings.
"Them not getting the ball up in the air, which is important," Reichert said. "Keeping the ball down in the zone is a key for me."
Quinn homered in the fourth inning off Esteban Loaiza (3-1) and Sweeney connected in the eighth off Kelvim Escobar, the club-record 15th straight game the Royals have homered in.
The major league record for homering in consecutive games is 25, held by the 1941 New York Yankees, 1994 Detroit Tigers and 1998 Atlanta Braves.
| | | |
| --- | --- | --- |
| | | |
| | When: 6:15 Tuesday.Where: Tropicana Field.Television: None.KC record: 6-12. | |
| | | |
The Blue Jays scored an unearned run in the fourth when Jose Cruz Jr. singled with two outs and scored when right fielder Jermaine Dye dropped Brad Fullmer's fly ball. Cruz extended his hitting streak to 16 games, the longest in the majors this season.
"Reichert really cruised in the seventh and eighth innings," Royals manager Tony Muser said. "He didn't really give up any runs. Jermaine kind of got turned around on that one ball."
Reichert retired 13 straight batters after the error. Alex Gonzalez's single in the first was the only other hit off Reichert.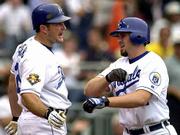 After Carlos Beltran walked in the fourth, Quinn hit his eighth homer. Sweeney then doubled and scored on Dee Brown's single.
"Reichert is a very good young pitcher, a great physical talent," Blue Jays manager Buck Martinez said. "He was going back and forth in changing velocity.
"Loaiza gave another good start. He kept us within range."
Notes: Jose Santiago, who was struck in the forehead by a line drive from Brad Fullmer on Saturday, said he was fine. Santiago said he had no headaches from the blow, which caromed into shallow center where second baseman Luis Alicea caught the ball for an out. ... Brown drove in four runs in the three-game series after having no RBIs in his first nine games. ... All five of Sweeney's homers have come against Toronto.
Copyright 2018 The Associated Press. All rights reserved. This material may not be published, broadcast, rewritten or redistributed. We strive to uphold our values for every story published.