Hollywood — While one brother entertained Hollywood's A-list at a pre-Oscar bash in Beverly Hills for his art-house movie "Chocolat," the younger sibling was holed up in a lower Manhattan office poring over marketing details for the release of his family adventure film "Spy Kids."
Bob Weinstein, the one who skipped the party, was making sure that the $36 million James-Bond-for-kids action feature would become another lucrative franchise for his 7-year-old Dimension Films. Based on the movie's $27 million debut, it appears his obsessive tinkering paid off.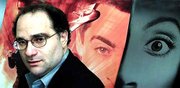 For Bob Weinstein, 46, this latest success is another sign that he has moved out of the shadow of his high-profile brother, Harvey, 49, with whom he co-founded New York-based Miramax Films more than two decades ago. And it has Hollywood wondering whether Weinstein, who is known for appealing to the all-important but fickle teen audience, has found a way to draw children, adolescents and even adults into the same movie.
Though he remains largely an enigma in Hollywood known as "the Quiet Man" Bob Weinstein has emerged as one of the hottest and most influential studio chiefs in the business, known for his instinct for tapping directly into the tastes of today's MTV generation.
His maverick movie outfit resurrected and contemporized the low-cost teen horror genre with hits such as the R-rated "Scream" trilogy and "Scary Movie." Now with the PG-rated "Spy Kids," written and directed by Robert Rodriguez, Weinstein has expanded his business beyond horror and, in doing so, burst into an arena long dominated by Miramax and Dimension's parent, Walt Disney Co. The movie, which is about two children rescuing their secret-agent parents, drew a surprisingly broad audience following an innovative marketing blitz by Weinstein.
Last year, his Dimension label accounted for three-quarters of Miramax's net profit, making him the undisputed rainmaker of the scrappy movie company that he and his brother built into the world's leading purveyor of offbeat art-house films, with hits such as "The Crying Game," "Pulp Fiction" and "Shakespeare in Love."
Many in Hollywood say Bob Weinstein did for traditional low-brow fare what his brother did for high-brow movies and in so doing distinguished Dimension as the new pop-culture brand.
It's an elevated status that makes Weinstein proud and queasy at the same time. Weinstein clearly relishes the accolades but hates being the center of attention as much as his brother covets it.
"I've strived for the success, and I'm very much enjoying it," said Bob Weinstein, "I don't have an image. Don't give me one. I want no image to have to uphold."
The more introverted, often brusque and admittedly schmooze-averse younger brother is described even by friends as "Harvey without the charm." Many say at times he can be surly, nasty and unnecessarily rough and demanding on people.
To Bob Weinstein, it made sense in the 1990s to increase Miramax's profitability by acquiring and producing cheap movies some were bought for as little as $1 million that could be marketed to teens and exploited on video, DVD and television.
The film that put Dimension on the map was the 1994 release "The Crow," about a rock guitarist who returns from the dead on Halloween eve. Paramount Pictures dumped it after the film's star, Brandon Lee, was accidentally shot dead on set of the movie shortly before the production wrapped. Weinstein is credited not only for taking a risk in buying the movie but for devising a creative way to sell it.
Last year, thanks to "Scary Movie" and "Scream 3," Dimension not only accounted for $75 million of Miramax's $145 million in profit, its eight releases collectively grossed nearly as much as competitor New Line's 28 films ($330 million versus $395 million, respectively).
And, as Weinstein proudly boasts, he did it without the infrastructure of a studio: His company did it with a 40-person staff.
"There's no question that Bob has become the powerhouse," says Harvey Weinstein. "He ... is the most profitable on a return on investment basis (of) any studio."
Copyright 2018 The Lawrence Journal-World. All rights reserved. This material may not be published, broadcast, rewritten or redistributed. We strive to uphold our values for every story published.