The latest e-mail scare comes with the heading "Not a Joke," and a scary warning to wash your grocery cans or die like a hapless stockroom clerk in Hawaii.
The label is accurate enough it indeed isn't a joke.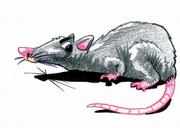 But it is a hoax.
The e-mail tells the story of a clerk who was ordered to clean out a storeroom, then got sick and died after being exposed to rodent droppings.
Then comes the moral: Always wash your soda cans and other grocery containers, because you don't know where they've been.
But the story bears the classic marks of an urban legend. There's no name, date or other facts to allow anyone to verify it.
However, one statement has a verifiable contact the e-mail says that the Centers for Disease Control and Prevention was brought in and found "dried rat's urine which is toxic and lethal!"
Not so, says the CDC. The federal agency has to deal with these hoaxes so often that it maintains a Web site just for debunking them: www.cdc.gov/hoax_rumors.htm.
According to the site, the facts are:
There is no known case in Hawaii.
The CDC was never called in to investigate any such case.
The San Fernando Valley Folklore Society, which monitors urban legends, says this story began circulating in 1998 as a general warning about "toxic rat urine." The Hawaiian location was added about a year later.
But the reason these hoaxes catch on so fast is that they do contain a germ of truth, says the group's debunking site, www.snopes2.com/.
"It's still always a good idea to wipe off cans from exposed six-packs or those dispensed from drink machines, if for no other reason than to avoid picking up something passed on by the human handlers of the product," says Barbara Mikkelson, one of the group's urban-legend experts.
Copyright 2018 The Lawrence Journal-World. All rights reserved. This material may not be published, broadcast, rewritten or redistributed. We strive to uphold our values for every story published.