Former Kansas basketball walk-on and crowd favorite Terry Nooner decided to take a break from hoops after the 1999-2000 season.
Inactivity took a toll on Noon-ball's waistline.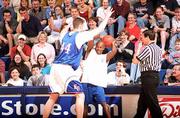 "I was fat a couple weeks ago. I was real fat. I was weighing like 220," said the 6-foot-1 former-Jayhawk, who checked in at 204 pounds for Sunday's KU Barnstorming game at Allen Fieldhouse.
"I started playing three weeks ago to get in shape for these games. Now I'm just nine pounds over my playing weight. I still have a ways to go."
Nooner hit four three pointers in the second half as a team of Kenny Gregory, Eric Chenowith, Nick Bradford, Jerod Haase and Nooner beat a team of KU students, 99-79, before about 500 fans at Allen Fieldhouse.
"They were real good a lot better than I thought they'd be," added Nooner, who spent this past year at KU working on his masters degree in sports administration.
Gregory, a senior, hit five threes and scored 30 points, while 7-foot senior Chenowith drifted outside to swish three three-pointers.
Nooner, however, was named the Jayhawks' Most Valuable Player.
The KU students were led by team MVP Andy Knopp, who had two slam dunks. One followed a strong move down the lane.
"I had a breakaway and I didn't see anybody in my way so I just went for it," said Knopp, a KU freshman who played varsity basketball at Manhattan High.
Knopp looked so good somebody asked him if he attended KU walk-on tryouts last season.
"No. It's too much a time commitment for me," Knopp said. "These guys are really good. That's what I found out today. They are even better than I thought."
One of the players on the student body team Stephanie Gottsch scored four points and also drew the sympathy of the fans when Chenowith swatted one of her shots.
"We were all having a good time," Gottsch said. "They let us take some open shots, too. It was awesome. I'll never get a chance to play with athletes like that again."
The sophomore played high school basketball in Avoca, Iowa, and also competed for KU's track team her freshman year.
"I play a lot in my free time," she said. "It was very cool. It's just cool to be on the court with all these awesome players."
Former KU swingman Bradford, who played three games for the Kansas City Knights this past ABA season, hit two three-pointers.
"We wanted to put on a show in appreciation for all these fans who came out today," Bradford said. "I was a little tired. We had two games yesterday and one Friday.
"I'm still in pretty good shape," added Bradford, who wants to get into coaching.
The Barnstorming game in Lawrence was a fund-raiser for Habitat for Humanity. The three Jayhawk basketball seniors injured Luke Axtell attended and sat on the scorer's table have Barnstorming stops remaining in Humboldt (Wednesday), Eureka and Wichita (Carroll High, Saturday), with the tour to conclude in Hillsboro (Sunday).
The KU students who were picked through tryouts were Markus Reiberg, Dortmund, Germany; Justin Hegwood, Kansas City; JonAlan Smith, Colby; Nathan Roberts, Overland Park; Stephanie Gottsch, Avoca, Iowa; Charles Myers, El Dorado; Nathan Harris, Kansas City; Michael Habtemichael, Ottawa; J.R. Roland, Grandview, Mo.; Andy Knopp, Manhattan; Breanne Patton, Emporia; Kristin Maphies, Overland Park; Tim Alexander, Wichita; Armond Enclarde, Colorado Springs, Colo.; Brett Olson, Chanute.
Copyright 2018 The Lawrence Journal-World. All rights reserved. This material may not be published, broadcast, rewritten or redistributed. We strive to uphold our values for every story published.