SACRAMENTO, CALIF. — To the Phoenix Suns, there's no sound more beautiful than 17,317 fans not cheering.
Shawn Marion scored 21 points and Jason Kidd had 18 points and 14 assists as Phoenix emerged from one of the NBA's toughest arenas with an 86-83 victory over the Sacramento Kings on Sunday in the opener of their playoff series.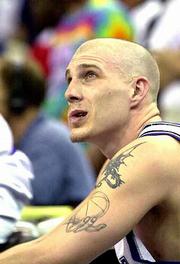 The Suns won the first game of a playoff series for the first time since 1997 by crippling the league's highest-scoring offense with tough defense and deliberate offensive schemes.
When Jason Williams' final shot missed and Rodney Rogers dribbled out the clock, the Suns enjoyed the sound of silence in Arco Arena.
"Cliff (Robinson) made a statement in the last minute when the crowd was quiet," Marion said. "He turned to me and said, 'You don't hear them now, do you?' We were zoning them out, anyway."
Sacramento, which has never won a playoff series since moving to Northern California, was unprepared to play the Suns' style. The Kings lost for just the ninth time all season at Arco Arena.
"It was their hungriness, their willingness to take on this bully that was seeded No. 3," Chris Webber said. "I have to give them credit for that. They had a mission, and they stayed on it."
Game 2 is Wednesday night in Sacramento.
Rogers scored 18 points and hit two big jumpers during a 10-2 Phoenix run late in the fourth quarter.
The loud crowd was silenced by the sixth-seeded Suns, who broke open a close game by holding the Kings to 6-of-28 shooting in the fourth quarter.
Knicks 92, Raptors 85
New York Just like last year, the New York Knicks turned Game 1 into a miserable experience for Vince Carter.
Kurt Thomas knocked Carter to the floor the first time he went to the basket, setting the tone for a frustrating afternoon for Carter as the Knicks defeated the Toronto Raptors 92-85 Sunday.
"My mom always told me there'll be days like this," Carter said after the game. "As a matter of fact, she just told me that."
Carter, who shot 3-for-20 last year in the first playoff game of his career, finished 5-for-22 from the field for 13 points. He did not score over the final 81*2 minutes as the Knicks controlled the fourth quarter and eventually pulled away in the final minute.
Thomas had a superb game with 17 points and 13 rebounds in his first career playoff start. Allan Houston scored 23 for New York and Latrell Sprewell added 13 in addition to playing strong defense on Carter.
The Knicks outrebounded the Raptors, repeatedly attacked their weakest defenders and handled themselves like playoff veterans down the stretch.
Game 2 in the best-of-5 series will be Thursday night, giving Carter almost four full days to ponder why this year's Game 1 looked so much like last year's.
Marcus Camby led the Knicks with 18 rebounds.
Lakers 106, Blazers 93
Los Angeles The Portland Trail Blazers might go quickly in their first-round playoff series against the Los Angeles Lakers. They won't go quietly.
After the Lakers went on a 19-0 run at the end of the third quarter and start of the fourth to win the series opener 106-93 Sunday, the Blazers complained about how Shaquille O'Neal played and how the officials reacted.
"I don't know what to tell our guys about Shaq," Portland coach Mike Dunleavy said. "He hits you every time, he sits in the lane for five or six seconds.
"The problem is when he's getting some deep catches after being in the lane so long it's hard to stop him."
Portland's Scottie Pippen said nobody will beat the Lakers if O'Neal is allowed to push the Blazers around.
"It was just ridiculous, the way they called the game," Pippen said. "And then they called tap fouls. Maybe they want the game to turn out this way. If they're going to let him lead with his elbows, throw guys out of the way, then we're going to have to change the way we play."
Pippen also said: "Our defense is geared to stop Shaq. The other guys are stepping up for them, that's the key."
O'Neal, who had 24 points and 20 rebounds but made only 33 percent of his field goal attempts, reacted angrily when informed of Dunleavy's remarks, saying, "Tell Dunleavy to get someone to play me; all they do is cry."
Kobe Bryant scored 25 of his 28 points in the second half.
Bucks 103, Magic 90
Milwaukee The Bucks made a good first impression only because they got so many second-chance points.
Sam Cassell, Ray Allen and Glenn Robinson missed 19 of their first 24 shots and finished 17-of-52 (32 percent). Scott Williams scored 19 points and the Bucks outrebounded the Magic 59-42.
That led to 25 second-chance points, 18 more than Orlando, which received a career playoff-high 33 points from Tracy McGrady.
The Magic used an 8-0 run, highlighted by McGrady's dunk and jumper, to pull to 94-90 with 2:17 left.
But then it was Orlando's turn to go cold, and the Bucks scored the game's final nine points.
Allen finished with 18 points, Cassell 16 and Robinson 14. Reserves Tim Thomas and Ervin Johnson added 12 each, though Thomas left in the fourth quarter after straining his back.
The only other Magic player in double figures was reserve Pat Garrity, who scored 14.
Copyright 2018 The Associated Press. All rights reserved. This material may not be published, broadcast, rewritten or redistributed. We strive to uphold our values for every story published.