TERRE HAUTE, IND. — With thousands expected to travel to the site of Timothy McVeigh's execution, entrepreneurs are hoping to cash in with commemorative T-shirts.
Among the four T-shirts already available in the Terre Haute area is one bearing the words "Hoosier Hospitality/McVeigh/Terre Haute/May 16, 2001, Final Justice" and emblazoned with a picture of a syringe.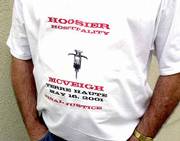 McVeigh is scheduled to die by injection on May 16 for the 1995 bombing of the Oklahoma City federal building, which killed 168 people.
"They haven't really been flying," said Terre Haute resident Jim Handlin, who designed that shirt. "I look to have more sales as time gets closer and there's more publicity on national TV.
"I'm not really in the T-shirt business. I just bought a machine, a heat press here a month ago or so," added Handlin, 65. "The idea just popped in my mind that these would sell pretty good."
Tony Lewis, 31, of Terre Haute is selling two pro-death-penalty T-shirts and one anti-death- penalty shirt.
His "Stop the Killing, Let McVeigh Live" T-shirt features a man strapped to a gurney. Another shirt says, "Terre Haute Extra Hangin' Times, Die!, Die, Die!" and displays a newspaper front with McVeigh's likeness. His third shirt also uses the "Hangin' Times" theme but is profanity laden.
Lewis, who said he has sold about 100 shirts so far, is also selling buttons.
"I'm doing it just to make a little money," he said.
Copyright 2018 The Associated Press. All rights reserved. This material may not be published, broadcast, rewritten or redistributed. We strive to uphold our values for every story published.