A Sunday afternoon parade featuring electric-gasoline hybrid vehicles, rolling canoes and banner-toting environmentalists proved that after 31 years, Earth Day is alive and well in Lawrence.
"It was great," said Stacey White, chair of the Lawrence Earth Day Committee, which organized the parade. "Earth Day is a great day to celebrate what's good about the earth and bring awareness to the problems."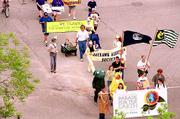 White wasn't sure how many people showed up to participate in the parade, which marched from Buford M. Watson Jr. Park through downtown on Massachusetts Street, concluding at South Park. The parade stretched about two blocks.
"It was a great parade, but I wish more people would have showed up," said Sue Iverson, Lawrence, who watched the parade with her husband, Brian, and 8-year-old son, Max.
Max Iverson said he also enjoyed the parade, especially the little dog riding in a canoe pulled by members of the Friends of the Kaw River organization.
Mike Calwell, who pulled the canoe, is hoping plenty of other people will take notice of the organizations' efforts to protect the Kansas River.
Getting lawmakers to take action to clean up and protect the polluted river is difficult, he said. He's especially concerned about agricultural chemical run-off as well as other pollutants.
"It's a dirty job but somebody's got to do it," he said. "We're outnumbered by the larger agricultural industry. Every major river is like the Kansas in that it is a result of what's coming down the tributaries."
At South Park, environmental protection organizations set up at more than a dozen tables, offering brochures, pamphlets and other information about various issues.
One table drawing attention was the Wetland Preservation Organization based at Haskell Indian Nations University. The organization's message is starting to be heard, said Stan Ross, Haskell faculty sponsor of the organization.
"We're getting people to realize that everything is connected," he said. "As much as you grow you've still got to preserve what's natural and what keeps renewing the earth, and that's what the wetlands do."
Copyright 2018 The Lawrence Journal-World. All rights reserved. This material may not be published, broadcast, rewritten or redistributed. We strive to uphold our values for every story published.