Siberia is famous as a frigid place for Russian exile and punishment.
But Dan Wildcat liked it. He hasn't quit smiling since he returned last month.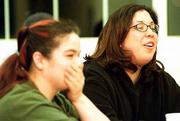 "This is just an incredibly exciting time for me," he said.
He'll soon return to what he calls a teacher's dream, sharing what he's found with a few of his students.
A sociology instructor at Haskell Indian Nations University, Wildcat said he has found in Siberia a government dead serious about promoting sustainable agriculture, respecting Mother Earth, and celebrating diversity. It's the Altai Republic, in south-central Siberia.
"It's an indigenous culture on the other side of the world that shares an amazing affinity and similarity with our indigenous cultures here," Wildcat said. "Only over there, they're in charge. It's not like anything I've been exposed to before."
Wildcat, an outspoken environmentalist, is part of a Haskell-led exchange program that's helping residents of the Altai Republic develop a community-based system for monitoring water quality.
The four-member group left Kansas March 19, returning March 27. They will go back in June with five, maybe seven, Haskell students.
Environment over economy
In the Altai Republic, most people take their water straight from streams. Water quality there is paramount, he said. In fact, it takes precedence over economic development.
"Since the collapse of the Soviet Union, the Siberian republics have a lot more autonomy," said Cynthia Annett, research associate with the Haskell Environmental Research Studies Center.
"They want to develop an economy of their own, but they don't want it to harm the environment," she said. "That's the debate that's going on there now."
Annett, who's also an adjunct lecturer with the Center for Russian and Eastern European Studies at Kansas University, has made nine trips to the Altai Republic, helping officials there begin the process for measuring and documenting the region's water quality.
Like Wildcat, Annett is anxious to have Haskell students share her experiences.
"This is an experiment in democracy," she said. "It's not something that's being done in the abstract. It's very real."
Annett wrote the proposal for the U.S. Agency for International Development grant that's underwriting the partnership between Haskell, KU, Kansas State University and Gorno-Altaisk State University in Russia.
'Student-driven'
Besides Annett and Wildcat, the group included Haskell academic dean George Godfrey, and Wendy Griswold from the Hazardous Substance Research Center at Kansas State University.
Haskell students likely to make the trip are Tina Scott, Stephanie Reyna, Marei Spaola, Krystale Head, Glen Gary, Sheldon Selwyn and Dustina Edmo.
Next year, the group hopes to play host to Gorno-Altaisk students in Lawrence.
"We want this to be student-driven, we want them to be the core," Annett said. "They are the ones who will make it work."
Lawrence could learn a lot from the Altai, Wildcat said.
"Our visit coincided with the Muslim holiday that celebrates the end of winter and the start of a new year," Wildcat said.
"The whole town closed for this huge festival that brought all these people together Altai, ethnic Kazakhstans, European Russians, ethnic Mongolians, Azerbaijanis, and Turkic people. It included everybody, whether they were Muslim didn't matter.
"It would be like everybody in a city the size of Lawrence taking the day off to have this celebration that recognizes and, at the same time, respects each other's differences. It's really something to see."
Copyright 2018 The Lawrence Journal-World. All rights reserved. This material may not be published, broadcast, rewritten or redistributed. We strive to uphold our values for every story published.