New York — Paul O'Neill had a look of disgust and was about to slam down his bat. Strange, given that he had just hit a game-tying home run in the 10th inning.
"It's almost embarrassing to react that way and hit a home run," O'Neill said.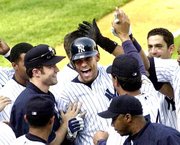 It was that type of day Sunday, another strange Yankees-Red Sox affair to remember.
Boston took three one-run leads over the Yankees on a pair of Manny Ramirez homers and a 10th-inning rally off Mariano Rivera started by a Ramirez single, but O'Neill and David Justice hit 10th-inning homers off Derek Lowe to give New York a 4-3 win.
"It's a weird game," said O'Neill, who has seven homers in April for the first time in his career.
Throw in a stellar 10-strikeout performance by rookie Ted Lilly in his first Yankees' start, three game-tying solo homers by the New York and jam-escaping relief work by Ramiro Mendoza and Boston's Rod Beck, and it's easy to see why fans are buzzing over the new schedule format that calls for 19 Yankee-Sox games instead of 13.
"When you get Boston and the Yankees together, you're going to have games like this back and forth. It's going to be like that the whole season," Justice said.
Jason Varitek had given the Red Sox a 3-2 lead in the 10th with a broken-bat single off Rivera (1-1), but the Yankees came right back off Lowe and avoided falling four games back in the AL East for the first time since Sept. 24, 1997.
O'Neill, hobbled a bit after fouling a pitch off his right foot earlier in the game, connected on a 1-2 pitch with one out for his seventh home run.
"Obviously, if you saw my reaction, I didn't think I hit the ball out," O'Neill said.
One out later, Justice got a first-pitch sinker that didn't and the ball landed in nearly the same spot in the right-field seats.
Justice had struck out in his first four at-bats, the first time that happened in his 13-year career.
"It's like a nightmare I can't get out of," said Lowe, 1-3 with a 6.48 ERA. "We've lost five games and I've got three of them. Who knows when I'll be out there again? I faced four guys, they hit two homers and we lost."
Ramirez connected twice off Lilly, a 25-year-old lefty brought up from Triple-A after Christian Parker got hurt and Randy Keisler struggled. Lilly, obtained with Parker from Montreal in the Hideki Irabu trade, allowed two runs and seven hits in 62*3 innings.
Mariners 5, Angels 0
Seattle Al Martin doubled and homered and Aaron Sele (3-0) pitched six shutout innings as Seattle completed its first four-game sweep ever against the Angels. Martin, who entered the game with a .118 average, went 2-for-4 with two RBIs starting in place of designated hitter Edgar Martinez, who got a day off to rest his sore left elbow.
Twins 4, White Sox 2
Chicago David Ortiz hit a go-ahead homer off Keith Foulke (0-2) in the eighth and Minnesota won its fifth straight game. At 14-3, the Twins are off to their best start ever. They won for the 10th time in 11 games. The Twins completed their first three-game sweep in Chicago since June 1985. Minnesota is 6-0 against the defending AL Central champs this season. Hector Carrasco (2-0) won in relief and LaTroy Hawkins got his fifth save.
Indians 11, Tigers 3
Cleveland Russell Branyan drove in four runs, Jim Thome hit a two-run homer and Juan Gonzalez had a solo shot as Cleveland win its sixth straight. Wil Cordero had three hits and scored three runs as every Indians starter got at least one of the Cleveland's season-high 19 hits. Dave Burba (2-1) allowed three runs and six hits in five innings.
Rangers 11, Athletics 2
Arlington, Texas Rick Helling, Texas' No. 1 starter, struck out eight and got his first win of the season and Ivan Rodriguez homered for the third straight game. Helling (1-3) gave up just two runs and six hits in 62*3 innings, which is his longest outing. He was winless his first four starts. Rafael Palmeiro hit a three-run homer for the Rangers, and Alex Rodriguez went 3-for-4 to extend his hitting streak to 11 games.
Orioles 10, Devil Rays 8, 11 innings
St. Petersburg, Fla. Delino DeShields hit an RBI single off Esteban Yan (1-1) in the 11th inning as Baltimore beat Tampa Bay. The Orioles won despite blowing a three-run lead with two outs in the bottom of the ninth. The Devil Rays were down to their final out when Russ Johnson and Greg Vaughn hit back-to-back homers.
Copyright 2018 The Associated Press. All rights reserved. This material may not be published, broadcast, rewritten or redistributed. We strive to uphold our values for every story published.