Iquitos, Peru — Drug interdiction flights over Peru have been suspended, U.S. officials announced Saturday, after the Peruvian air force shot down a seaplane carrying American missionaries.
The missionary plane, mistaken for a drug smuggling flight, was tracked by a U.S. surveillance plane before it was downed, a Bush administration official said Saturday night.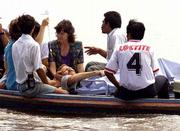 The crew aboard the surveillance plane urged Peruvian authorities to check out the flight, said the official, asking not to be identified.
A second official said the plane was considered suspect because it was operating without a flight plan in airspace frequented by drug runners. Peru, which had the responsibility to identify the plane's intentions under a long-standing agreement, mistakenly decided that it was carrying drugs, the official said.
In Lima, the U.S. Embassy said further drug interdiction flights had been suspended, "pending a thorough investigation and review by Peruvian and U.S. officials of how this tragic incident took place."
Also Saturday, Jim Bowers, whose wife and 7-month-old daughter were killed when the plane was shot down, gave his account of the hellish flight to a Peruvian air force colonel investigating the incident. His brother, Phil Bowers, sat in on the interview.
Phil Bowers, who was not on the flight, said his brother told the colonel that the Peruvian military made no attempt to communicate over the radio before two or three jets opened fire on the small plane.
Hundreds of villagers watched as at least one of the air force planes fired at the disabled Cessna and the survivors as they floated in the Amazon River, Phil Bowers said. He added that the U.S. "surveillance plane also saw the whole thing from up high."
A U.S. Embassy official declined to comment. Peru's air force issued a statement early Saturday confirming that the missionaries' plane was shot down after it was detected by "an air space surveillance and control system" run jointly by Peru and the U.S.
Copyright 2014 The Associated Press. All rights reserved. This material may not be published, broadcast, rewritten or redistributed. We strive to uphold our values for every story published.