New York — On the desk of Robert Caro lie 2,007 typewritten pages about the Senate years of Lyndon Baines Johnson. The pages are stacked nearly 7 inches high, more than twice as thick as the Manhattan phone book.
The biography is called "Master of the Senate," the long-awaited sequel to Caro's award-winning, controversial "Means of Ascent," which ended with Johnson's notorious 1948 Senate campaign.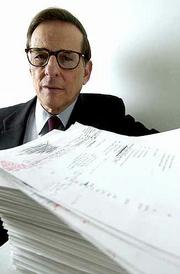 "I get letters all the time asking when the next book will come out," Caro says during a recent interview at his midtown office. "I had a 77-year-old man wanting to know if it would come out in his lifetime."
"Master of the Senate" is Volume III of Caro's planned four-part Johnson epic. When the book does arrive, in early 2002, it will likely run about 1,000 pages (Caro's manuscript pages hold less than a finished page).
Caro had plenty of negative things to say about Johnson in his previous book and some Johnson supporters felt the same about "Means of Ascent." Among them is Jack Valenti, a former Johnson aide who closely read the first two books and plans on doing the same with the third volume.
"My take on Robert Caro is that he is an immensely gifted writer and very readable," says Valenti, now president of the Motion Picture Association of America. "My only question is why such a talented writer would want to spend 15-20 years of his life writing about a man he thoroughly despises?"
Caro has heard this before. A former investigative journalist, he says he's simply reporting what some people don't want to hear. "Of course, I don't despise Lyndon Johnson," he responds, "and no one who reads the books honestly would ever think that.
"The reason I take so long is that I'm not just looking at Lyndon Johnson. I hope my books are a picture of America and the transformation of political power during the life of Lyndon Johnson," he says.
Johnson as 'egomaniac'
"Means of Ascent," published in 1990, began with Johnson's narrow defeat for the U.S. Senate in 1941. It ended in 1948 when Johnson barely beat former Texas Gov. Coke Stevenson in a Senate race many suspected of having been stolen.
Caro presented Johnson as a boorish egomaniac willing to do anything steal an election, lie about his war record, even risk his life to advance himself. He wrote that Johnson frequently humiliated his wife, Lady Bird, and had a lengthy extramarital affair.
While "bright and dark" threads run through most of Johnson's life, Caro wrote in "Means of Ascent," no bright thread is visible in a period when Johnson "was all but totally consumed by his need for power and by his efforts to obtain it."
Caro in turn was accused both of demonizing Johnson and romanticizing Stevenson, a segregationist. Valenti thought Caro was "passionately bent on destroying" the late president's reputation. Sidney Blumenthal, later an aide to President Clinton, wrote in The New Republic that Caro's reporting was badly flawed and that he simplistically viewed "almost every transaction among political actors as intrinsically venal."
He also was praised. The Boston Sunday Globe said Caro was the standard by which other biographers should be measured. And The New York Times called him "an indefatigable investigative reporter and a skillful historian."
Caro, who spent seven years on "Means of Ascent," defended the integrity of his book; many readers and reviewers seemed to agree. "Means of Ascent" was a best seller about 300,000 copies are in print and won the National Book Critics Circle prize.
Johnson's construction side
For the next volume, which covers the years 1949-60, Caro says a more constructive side of Johnson will emerge. Once Johnson gets power, he will pass legislation on the minimum wage and other liberal causes. In 1957, he will defy all wisdom by pushing through the first civil rights bill since Reconstruction.
"You will see more of that bright thread," Caro says. "He was born to be in the Senate, to deal with people one on one. The Senate was created by the founding fathers to really be something special, but it hadn't been that way for over a century and seemed like it would never be again. Johnson changed that."
Caro has been working on the Johnson books since the mid-1970s and has interviewed more than 1,000 people, including little-known Senate aides, former Texas Gov. John Connally and former Senators like Edmund Muskie and J. William Fulbright. Caro's research fills three large, oak file cabinets in his office.
Caro, 65, is a New York City native who graduated from Princeton University in 1957 and later worked as an investigative reporter for Newsday. Never at ease with the limited time and space of journalism, he left the newspaper in the mid-1960s. For seven years, he worked on "The Power Broker," a highly critical biography of Robert Moses, New York's mighty public works builder.
Published in 1974, the book was long (more than 1,200 pages), controversial (Moses responded with a 3,500-word denunciation) and praised (it won the Pulitzer Prize and is now standard reading for urban studies courses). Moses had granted several long interviews to Caro, but eventually cut him off. For the Johnson books, Lady Bird Johnson did the same.
"She started out being very cooperative," Caro says. "Long before anything was published, she stopped cooperating.
"There were two camps. Some of the Johnson people would talk to me over and over, some wouldn't. I felt it was because they were comparing notes and realizing that at last someone was not merely accepting the view of his life as he had put out."
Caro spent another seven years on the first Johnson book, "Path to Power," which came out in 1982 and also won the book critics prize. Caro has said he began his research believing the late president was motivated to help people, but then decided his real passion was power.
He holds up a page that includes the epigraph for "Master of the Senate," a quote from Johnson: "I do understand power, whatever else may be said about me. I knew where to look for it, and how to use it."
A registered independent, Caro thinks of his books less as portraits of people than as dramatizations of power how it's acquired, how it's used. He calls "The Power Broker" an examination of municipal power. His first Johnson book was an examination of political power in rural areas; the second, an examination of power and electoral politics. His new Johnson volume will look at legislative power.
Caro says he writes extensively about Johnson's relationship with, and manipulation of, such key Senate colleagues as the Northern liberal Hubert Humphrey, who eventually became his vice president, and Southern conservative Richard Russell, the seemingly unstoppable opponent of integration.
A major section of Caro's book, more than 300 pages, will be about the 1957 civil rights legislation. The bill's actual contents had minor impact, but its passage was extraordinary. The Senate was dominated by the Southern caucus, which controlled most of the key committees. One opponent, Republican Strom Thurmond of South Carolina, filibustered for more than 24 hours.
Caro's research methods suggest a journalist as much as a scholar. He moved to Texas while writing about Johnson's early years and for the fourth and final volume plans to spend time in a Vietnamese village, looking into the impact of Johnson's war policy.
For "Master of the Senate," the biographer rented an apartment in Washington, D.C., and over a period of several years sat in the gallery above the Senate chamber, watching how the legislators work the roll calls, the speeches, the protocol.
"No one seemed to know who I was," he says. "I felt like the Senate was putting on a show just for me."
Caro did make some important contacts. Former Sen. Bill Bradley offered Caro a private lecture on the nature of power in the Senate and served as a stand-in for an unusual demonstration.
"Here's where Johnson sits," Caro explains, quickly walking over to the picture on his bulletin board. "There's a step in front of him, I measured it 6 inches. That step leads down to the Senate 'well' (the semicircular area in front of the podium where legislators gather during voting). Johnson stood nearly 6-foot-4 and when he was standing by his desk as the Senators voted he looked 6 inches higher.
"Johnson was so tall that when he stood he was nearly eye to eye with the seat at the podium where the vice president presided, Richard Nixon. He and Nixon would argue over parliamentary procedures."
Caro laughs.
"Johnson would always win."
Copyright 2018 The Associated Press. All rights reserved. This material may not be published, broadcast, rewritten or redistributed. We strive to uphold our values for every story published.