Erin Brockovich brought home her motivational road show Friday, preaching the principles she learned growing up in Lawrence and that guide her life today.
The 1978 Lawrence High School graduate was home for the first time in six years to speak at the Kansas Press Assn.'s annual convention at the Lawrence Holidome, 200 McDonald Drive.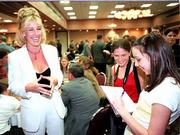 Brockovich became a household name after she was portrayed by Julia Roberts on the big screen. The movie "Erin Brockovich" tells the story of her research that linked illnesses in hundreds of Hinkley, Calif., residents to contamination caused by Pacific Gas & Electric Co. The company eventually agreed to a $333 million settlement the largest direct-action settlement in U.S. history.
Friday, Brockovich shared some Hollywood stories, a few tales about how fame has changed her life and then offered a half-dozen principles based on the morals and values taught by her parents, who were in the audience.
"It is these morals and values that I see missing in the youth of today," Brockovich said. "But I'm here to tell you today: It works."
Rules of the road
Rule 1. Don't lie.
Though she learned it best as a teen caught in a lie by her parents, Brockovich said her experiences in Hinkley, where people were lied to about why their families were sick and dying, drove home painfully how devastating a lie can be.
"When I went out to Hinkley, I learned very quickly the grief the lie put on those people," she said.
Rule 2. Have "sticktoitiveness."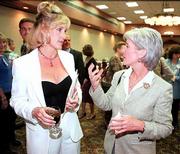 A word she heard often from her parents, Brockovich said she grew up thinking it was slang.
"But that word stuck in my head like the little engine that could," she said, it and helps keep her driving toward her goals.
Rule 3. Never be afraid to be who you are.
Brockovich, who struggled through school, said she eventually was labeled a dyslexic. She now is incredulous that her 16-year-old daughter, who recently was diagnosed with a bi-polar disorder, is losing friends who don't understand the illness. She pleaded with the audience to accept people for who they are and how they are.
Rule 4. You have to do things that are hard.
"There's no explanation for 'you have to,'" Brockovich said. But everyone has heard it countless times growing up. "Why do I have to eat my broccoli," Brockovich said. "You have to."
Rule 5. Tough shit. See No. 4.
Brockovich said her father introduced the phrase to her daughter when the two were sharing tomatoes. Her grandfather had salted some of the tomatoes, and she protested because she didn't like them salted. "Tough shit," he replied.
When Brockovich confronted her father about the phrase, his reply was the same: "Tough shit."
Rule 6. Stand up for what is right.
That rule, Brockovich said, was her message to the people of Hinkley, and it continues to be her message to her clients today.
"They were lied to, their health and their families were taken away from them," she said. "No matter what the outcome was, they had the ability as individuals to stand up and be heard. They did make a difference."
Family affair
Though much of her speech was focused on the serious side of her career, Brockovich didn't pass up the chance to comment on her signature tight mini-skirts and low-cut tops one of which she was wearing Friday.
She recalled the first time she gave a speech after the movie. It was at a convention in Kansas City, and her mother, B.J. Pattee, met her backstage beforehand.
"She said, 'Oh, my God. You really do dress like that," Brockovich recalled. "And I said, 'Yes, mother. Didn't you see the movie?'"
Brockovich had given her speech dozens of times since the movie was released. But she said the homecoming version of her speech was more difficult than most, with her parents, husband, brother, sister and niece in the audience. At one point while talking about her brother's funeral, she broke down.
"It's more nerve-wracking, with the family there," she said after the speech. "I'm more emotional, being at home."
Her father, Frank Pattee, said he and his wife hadn't seen their daughter speak since that time in Kansas City. They're looking forward to spending the weekend with her before she leaves for her California home Sunday.
"I am amazed," Frank Pattee said. "She does a great job. She never had any training in speaking. I think she learned this all from her mother, who likes to talk."
Paper chase
Jeff Burkhead, KPA executive director and a 1977 graduate of Lawrence High, said he persuaded Brockovich to return to Lawrence after interviewing her as part of his former job as editor of the Emporia Gazette. Many of the open-records issues Brockovich deals with are similar to those encountered by reporters, he said.
During her speech, Brockovich praised the joint project between KPA and 19 newspapers last year that exposed problems with access to public records. She said such documents are key to gathering information on the pollution lawsuits that her firm handles.
"I like to think if Erin wouldn't have gone into legal research, she would have made a great investigative reporter," Burkhead said.
After the speech, Brockovich stood for a half hour signing autographs for press association members and others in the audience. She said she didn't mind her newfound fame though she never expected it.
"I'm flattered, and if anybody stands in line to get an autograph, I'm going to give it to them," she said. "It's overwhelming."
Copyright 2018 The Lawrence Journal-World. All rights reserved. This material may not be published, broadcast, rewritten or redistributed. We strive to uphold our values for every story published.