Thirty-one years after the late Arden Booth won the 1970 Sertoma Club's Service to Mankind Award, his son, Hank Booth, accepted the same award for dedication and service to the Lawrence community.
"I've had the best coach any person could possibly have had," Booth told Sertoma Club members Tuesday night at the Lawrence Holidome as he accepted the 2001 award.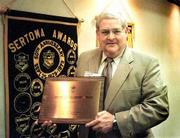 Family and about 60 Sertoma Club members gave a standing ovation to Booth, former KLWN manager and "professional volunteer," as his children call him.
Award presenter John Golden took a deep breath before delving into Booth's exhausting list of volunteer and professional accomplishments and awards.
Booth, a Lawrence native, currently maintains a daily radio program, is the voice of high school football in Lawrence and does a number of Kansas University sports programs. He has served on boards and as a volunteer and officer in the Lawrence community, Douglas County, the state of Kansas, Kansas University and in the broadcasting field. He's served as Lawrence Chamber of Commerce board president, United Way of Douglas County president and a lobbyist for the National Association of Broadcasters, among other positions.
Booth's pet project, Golden said, was serving on a task force to develop early childhood intervention for at-risk 4-year-olds in Lawrence. The program, which currently involves 250 Lawrence children, requires parents to be partners working with the youngsters in and out of the classroom.
Though his list of achievements was already extensive, Booth said the Service to Mankind award held a special importance because his father had received the same recognition. Arden Booth, former state senator and founder of KLWN, "did everything on that list and more," Hank Booth said in reference to his own accomplishments.
Arden Booth died in March 2000 at age 88.
Hank Booth, who joins his father on a prestigious list of Lawrence volunteers honored since 1963, said he's been rewarded for his service many times over.
"I have lived by one rule I think every person gets back 10 times what they've given," Booth said. He said he's cherished "the joy of watching this town grow and develop, the people I've gotten to meet, the things that can't be measured by money ... That's a life-fulfilling kind of thing."
Copyright 2018 The Lawrence Journal-World. All rights reserved. This material may not be published, broadcast, rewritten or redistributed. We strive to uphold our values for every story published.