U.S. Sen. Sam Brownback, R-Kan., hit the Kansas University campus Tuesday, opening a conference on election reform and then rallying students opposed to abortion.
Brownback urged the students to voice their disapproval of abortion "in a loving fashion."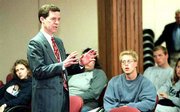 "That's how we win the day on this argument," he said to a group of about 40 students at Burge Union.
Brownback said abortion, the use of fetal tissue and stem cells in research, and cloning are the "central debates of the day."
One student asked Brownback how to counsel a woman not to seek an abortion, even if it was determined the child will have severe medical problems and probably die.
"You have to reach out and say, 'What can I do to help you?'" he said.
Earlier, Brownback opened a conference on U.S. elections and problems in counting votes that were highlighted during the 2000 presidential election.
George W. Bush won the election after the U.S. Supreme Court, in a split decision, rejected an attempt by Democrat Al Gore to get a recount of controversial vote totals in Florida.
Brownback said that election has hurt U.S. credibility on the world stage.
"In this day of the Internet and the human genome, there's no reason why we can't count votes accurately," he said.
Brownback and Sen. Charles Schumer, D-N.Y., have sponsored legislation that would create a commission to identify the most accurate and efficient ways to tally votes.
The bill would provide $2.5 billion to state and local governments that would match those funds and institute the recommended voting systems.
Brownback said he would oppose any attempt by Congress to require a uniform voting system across the country.
The conference on election reform featured political scholars from across the nation and was sponsored by the Robert J. Dole Institute for Public Service and Public Policy.
Copyright 2018 The Lawrence Journal-World. All rights reserved. This material may not be published, broadcast, rewritten or redistributed. We strive to uphold our values for every story published.