Boston — The Red Sox rotation of Pedro and a bunch of other guys keeps outpitching the Yankees' big-name starters.
Bargain free agent Frank Castillo beat his big-bucks counterpart Mike Mussina on Monday as Boston topped New York 4-1 to take three of the four games in the opening series between the AL East rivals.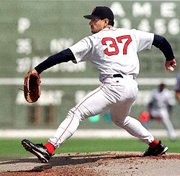 "You can't say, 'We beat New York three games, it's over.' You've got to keep going," Manny Ramirez said. "We're trying not to get a big head."
Castillo (1-1), signed to a $4.5 million, two-year contract, threw 65 pitches in six scoreless innings and retired 18 of his 20 batters, allowing only two singles to Scott Brosius.
"You really don't think about how much Mussina made," Castillo said. "You're just competing against their lineup. If you make (good) pitches, you're going to get outs. I try to keep it simple."
Mussina (1-1), who got an $88.5 million, six-year deal, allowed three runs on eight hits in seven innings and struck out six. Neither starter walked a batter.
"It's one of those situations when it's been a tight series and they've been pitching and hitting well," Mussina said.
The Red Sox didn't homer in the series but outscored the Yankees 14-10 and outhit them 40-28 to tie Toronto for first place at 9-4. New York is 8-5.
"I felt good mechanically," Castillo said. "I had a good cutter. Everything felt good."
The teams meet again in New York in a three-game series starting Friday night.
Starters Paxton Crawford, Pedro Martinez and Hideo Nomo held an edge over New York's Orlando Hernandez, Roger Clemens and Andy Pettitte in the first three games a 3-2 Boston win, a 3-2 New York win and a 5-4 Boston victory. Martinez started Boston's only loss
Clemens, Pettitte and Mussina began the season trailing only Martinez and Randy Johnson for the best winning percentage among active pitchers.
Boston's strong pitching was more remarkable considering the Yankees outscored Kansas City 30-14 in a three-game sweep of their previous series.
"They have a great pitching staff, and we showed we can pitch right with them," Boston's Lou Merloni said.
The Red Sox lead the majors with a 1.97 ERA compared to the Yankees' 3.89.
"When you look at all those names on their staff they've got people who are capable of doing what they're doing," New York manager Joe Torre said. "Their pitchers deserve most of the credit."
The Yankees played their seventh straight game without Bernie Williams, who was in Puerto Rico with his ailing father.
"I'm sure you miss him, but when a guy's gone down in the past we've never used it as an excuse," Tino Martinez said.
New York's only run came on Martinez's second homer of the season in the eighth off Pete Schourek. Tim Wakefield got the last three outs of the inning and Rod Beck recorded his first save.
"I'm not surprised they won three of four," Martinez said. "They played better baseball."
Boston never trailed in the traditional 11 a.m. Patriots' Day game after Darren Lewis tripled off Mussina in the first and scored on Trot Nixon's groundout.
The Red Sox made it 2-0 in the fifth when Merloni doubled, took third on Mike Lansing's bunt single and scored on Lewis' single
Boston added a run in the seventh. Brian Daubach led off with a double. Merloni bunted to Mussina, but second baseman Alfonso Soriano couldn't handle his throw at first and Daubach scored.
Shea Hillenbrand's ground out in the eighth drove in Boston's final run.
Orioles 6, Devil Rays 2
Baltimore Greg Myers drove in three runs with a homer and a two-run single before 24,558, only the fourth time in the 10-year history of Camden Yards that the Orioles drew fewer than 30,000 fans.
Jason Johnson (1-0) became the first Baltimore starter to earn a victory this season, allowing one run and three hits in six innings.
Ryan Rupe (0-2) gave up two runs and six hits in 5 2/3 innings.
Athletics 6, Angels 3
Anaheim, Calif. Mark Mulder held Anaheim hitless into the sixth inning as Oakland stopped a seven-game losing streak.
Frank Menechino had a homer and three RBIs to back Mulder (1-1), who allowed three runs and five hits in six-plus innings. He struck out seven and walked none.
Jason Isringhausen pitched an perfect ninth for his second save in as many chances.
Shawn Wooten broke up the no-hit bid leading off the sixth with his first major league homer.
Mariners 9, Rangers 7
Seattle Alex Rodriguez's millions didn't get him a win in his return to Seattle.
Booed every time he walked to the plate, Rodriguez was 1-for-4 with a single as Texas lost to the Mariners.
Seattle, which leads the AL West, took a 6-0 lead after two innings against Ryan Glynn (0-3) and beat the Rangers for the third time in four games this season.
Rodriguez played with Seattle from 1994 until 2000, helping the Mariners reach the AL championship series last season. He is 5-for-16 (.313) against his old team this year with two RBIs.
Rafael Palmeiro provided most of the Rangers' offense, homering twice and driving in five runs.
Copyright 2018 The Associated Press. All rights reserved. This material may not be published, broadcast, rewritten or redistributed. We strive to uphold our values for every story published.