Vatican City — Frail, and at moments even wobbly, John Paul II expressed hope Sunday that the message of Easter can inspire humanity to defeat evil and bring peace to the Middle East, the Balkans, Africa and other places plagued by violence.
"Men and women of the third millennium, the Easter gift of light that scatters the darkness of fear and sadness is meant for everyone," John Paul said near the end of a two-hour ceremony in St. Peter's Square, where close to 100,000 people braved unusually chilly weather for a Roman spring.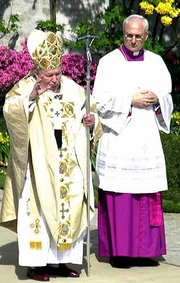 "Rediscover with joy and wonder that the world is no longer a slave to the inevitable. The world of ours can change: peace is possible even where for too long there has been fighting and death," the pontiff said, naming the Holy Land, Jerusalem, the Balkans, Africa, Asia and Latin America.
Age and physical ailments have taken their toll on the pope, who turns 81 next month. As he made his way to the altar on the steps of St. Peter's Basilica, John Paul at one point swayed and appeared to lose his balance. Two aides quickly grabbed his arms and steadied him.
Sunday's late-morning Mass was the last in a series of taxing Holy Week appearances for John Paul that included a long, late night Saturday vigil service held in the basilica instead of in the square because of the rain.
For the first time, John Paul walked and carried a cross for only a very small part of the Good Friday ceremony at the Colosseum. Intervals between public ceremonies also were lengthened to give the pontiff more time to rest.
An arm tremor, a shuffling walk and slurred words symptoms of Parkinson's disease have troubled the pontiff for several years. But on Sunday, his voice rang out strong and clear during his traditional Easter reflection on the world's trouble spots. He prayed that "this commitment of ours will not falter, even when weariness slows our steps."
He followed the "Urbi et Orbi" (Latin for "to the city and to the world") Easter message by wishing the world happy Easter in 61 languages.
Among the languages John Paul used in delivering the greetings were Greek, Maltese and Arabic. He will make a pilgrimage next month to Greece, Malta and Syria.
Copyright 2017 The Associated Press. All rights reserved. This material may not be published, broadcast, rewritten or redistributed. We strive to uphold our values for every story published.