Severe weather hit the Douglas County area again Saturday night, unleashing heavy rain, hail and high winds that downed trees and power lines and spawned a funnel cloud.
Extreme southern Douglas County was placed under a tornado warning from 6:30 p.m. to 7:15 p.m. by the National Weather Service.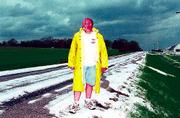 Storm spotters called out by Douglas County Emergency Management reported seeing a funnel cloud a few miles west of Baldwin. Sirens were sounded in Baldwin three different times during the warning period, Douglas County Emergency Management Director Paula Phillips said.
The funnel, however, did not touch ground and no damage from it was reported, she said.
"It was pretty close," she said.
That funnel was thought to be forming near Overbrook in Osage County. An Osage County Sheriff's dispatcher said he did not believe there was any damage in Overbrook from the storm.
Douglas County remained in a tornado watch until midnight, but most of the severe weather threat appeared to be over by 9:30 p.m., Phillips said.
Hail was reported throughout the area.
Mike Beerbower was leaving Lawrence driving to his home near Vinland on East 1650 Road as the storm struck. When he arrived home, he found about an inch of pea-sized hail on the ground.
"It looks like a snowstorm out here," he said.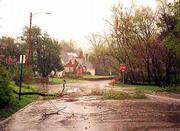 Beerbower's wife, Michelle, had taken their two young daughters into the basement for shelter when the tornado warning was issued, he said.
Wind speeds of 55 to 60 mph were reported to Emergency Management from spotters throughout the county, Phillips said.
Several power lines were reported down throughout Lawrence. Fire trucks with Lawrence-Douglas County Fire & Medical blocked traffic from the 1100 and 1200 blocks of East 23rd Street because of downed lines. A light pole was blown down near Ninth and Louisiana streets.
Trees and limbs were also down throughout Lawrence.
A second round of storms hit the area about 9 p.m. An inch of hail fell near Lecompton at Linda Merchant's residence, 652 N. 2050 Road, she said.
"Our balcony is completely in ice," she said.
She estimated the hail to be about 2 inches in diameter.
"We got some really good pings on the truck," she said.
Wind tore down the guttering on her residence, she said.
As many as 6,000 KPL customers were without power as a result of lightning and downed power lines, KPL spokesman Mark Schreiber said. By 11 p.m. power had been restored to all but 1,000, he said.
"It was pretty scattered throughout Lawrence, but the central and southeast areas may have been hit the hardest," he said.
A rain gauge at Sunflower Cablevision measured 1.41 inches of precipitation for the day, though heavy rains about 8 p.m. resulted in some curb-to-curb rivers on Lawrence streets.
Copyright 2018 The Lawrence Journal-World. All rights reserved. This material may not be published, broadcast, rewritten or redistributed. We strive to uphold our values for every story published.