Gene Shaughnessy sees Lawrence grow a little bit each day.
At work, the city's chief building inspector writes building permits for new homes, businesses and industries.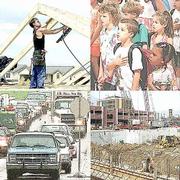 In town, the Lawrence resident drives on crowded streets that were simply gravel upon his arrival 48 years ago.
And at home, he thinks about the way things used to be before Lawrence started growing or, more accurately, kept growing.
"Back in the mid-'50s, to me Lawrence was basically what you'd consider a very cozy, friendly town of maybe 30,000 people," Shaughnessy said. "You had one junior high and one high school. You knew most of the kids or families, generally, throughout town.
"But when you look at tripling that population to where we are nowadays, it's a totally different atmosphere. It's still a friendly atmosphere, but it may not be as cozy as it used to be. There's a lot more space to cross to get to the store, get to school, get to work.
"There's just a lot more."
Census proves it
Numbers released last month by the U.S. Census Bureau show that during the past decade Lawrence was the state's fastest-growing big city outside of Johnson County. From 1990 to 2000, Lawrence grew by more than 21 percent, adding nearly 14,500 people. Douglas County grew at a similar rate, adding more than 18,000 people.
During the same period, the national population growth rate was 13 percent; statewide it was 8.5 percent.
New industrial plants, stores and warehouses continue to open, and thousands of new homes have been built in the past decade.
Other economic indicators also reflect prosperity. The city now is a retail hub, attracting shoppers that once headed into Johnson County or Topeka.
Nightlife is plentiful, and there are rich and varied offerings of the arts that draw regional audiences.
But we've learned something as Lawrence has boomed: Growth, however good or bad, brings its own set of problems.
One is traffic congestion. As Shaughnessy points out, there's not just more of Lawrence to get across, but more of us to wade through to get where we're going.
Affordable housing is becoming scarce, as demand exceeds supply.
Lawrence and area school districts are struggling to accommodate increasing enrollment and shifts in population that have some of us calling for consolidation of schools.
Across the county, communities are struggling to add roads, sewers and other infrastructure fast enough to keep up with the pace of growth.
Some of us worry that Lawrence is losing its distinctive identity as growth squeezes in from Topeka on the west and Johnson County on the east.
Some say the city is suffering urban sprawl. There's more pollution, police are busier, and there's less of the small-town feel that attracted some of us to Lawrence in the first place.
Questions to be answered
That means folks in the Lawrence area have some important questions to answer: As growth continues, what should we protect? Where and how should we grow? What sorts of growth do we want to encourage, what sorts do we want to slow?
They're hard questions, and ultimately, those of us who live here have to answer them. That means everybody: natives, newcomers, old people, young people, renters, homeowners, developers, commuters, environmentalists.
Finding answers is complicated. As with many cities struggling with such issues, the picture of growth in Lawrence usually appears as one in which certain entities developers, municipal planners, local government are the actors, and residents are the acted upon.
One reason for that may be the way we've been reporting it. It's fairly simple to cover growth as an episodic story when new developments and issues arise. But that often presents a picture of growth as some unrestrained machine doing its bidding with John and Jane Doe protesting only when something affects them directly.
And it usually presents just two voices: those of the "machine" and those affected by it.
That picture is not wholly inaccurate, but it's certainly oversimplified. And it often suggests there is an inevitable polarization on every growth issue: a relentless growth-at-any-cost faction vs. a stubborn no-growth-at-all faction, with little if any middle ground.
That's not the whole picture.
In round tables, at community meetings and in informal polls in the past few months, we've found proof that there is much common ground among us, and that a handful of new groups are actively seeking more of it.
From a Lawrence Chamber of Commerce committee seeking space for new business parks and open space to a group pushing for the ideals of "Smart Growth," people are talking. And they're finding to their surprise and delight that we all aren't so far apart.
"There are so many things we're finding where we can agree," Charles Jones said at a recent meeting of ECO2, the chamber committee.
Jones, a Douglas County commissioner, sits on the committee alongside a commercial Realtor, local government officials, a farmer, an environmentalist, a banker and others of diverse backgrounds.
"There's a lot more common ground than we thought there was," said Kelvin Heck, the Realtor who co-chairs the committee.
They've learned that new thinking must accompany growth. The best solutions arrive when all of us neighbors, co-workers, friends get involved in the life of the community to help shape decisions about its future.
It just takes time to sit down, listen and learn about each other.
The business can be tedious, complicated, trivial, mired in the processes of bureaucracy. It often must result in compromise that makes no one perfectly happy. But that's the way it has to work if it's going to be government by the people.
And that's the way it has to work if we hope to avoid missteps and take advantage of the opportunities provided by the Lawrence area's healthy, growing economy.
Our community's future depends on how successful we are at finding common ground.
Copyright 2018 The Lawrence Journal-World. All rights reserved. This material may not be published, broadcast, rewritten or redistributed. We strive to uphold our values for every story published.