Fargo, N.D. — The Midwest's swollen rivers weren't expected to crest as high as earlier feared, forecasters said Friday. But with many rivers above flood stage and still rising, residents weren't taking chances.
Minnesota Gov. Jesse Ventura helped pile sandbags in Moorhead, Minn., as residents along the Red River fought to shore up emergency dikes and protect homes and businesses.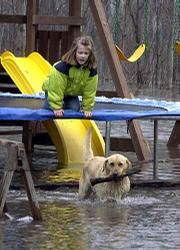 "I think what you offer them is: 'Jump in and help them,"' Ventura said Thursday, urging more people to help out. "I think that's the best encouragement."
Fargo officials reported only minor problems overnight, but remained on alert.
"We think everything is done, for the most part," Mayor Bruce Furness said Friday. "We need to remain vigilant and watch this."
To the south, Breckenridge, Minn., Mayor Cliff Barth said crews were working to fix a sanitary sewer main that probably broke due to a weak pipe under pressure from flooding.
Barth said late Friday that the sewer system was fixed, but residents were still asked to conserve water.
In neighboring Wahpeton, Public Works Director Jerry Lein said crews were putting sandbags and plastic down to protect dikes from wave action, and were continuing to walk the dikes 24 hours a day. The longer the water stays high, the more problems the temporary dikes could face, he said.
"The system's in place. We just have to maintain it and make sure nothing happens to what we've got," Lein said.
In Fargo, where the Red River wasn't expected to crest until Monday or Tuesday, the water was at 36.4 feet Friday. Flood stage is 17 feet. The new crest estimate, 37.5 feet, is down a half foot. Across the river, National Guardsmen set up portable bridges to span a section of road near Moorhead that was cut to allow floodwaters through. About 150 homes in Oakport Township would be accessible only by boat without the bridges.
"You can't just forget about it and take down your dike and pretend it's not going to rain," said Dorothy Skalicky, who had to take a boat to her home after floodwaters cut off the roads.
Elsewhere, along the Minnesota River, the weight of a levee holding back the swollen river cracked the city water main at Granite Falls, Minn. The leak is eroding the levee, but crews can't repair it without tearing up the dike, Mayor Dave Smiglewski said.
Everyone still had fresh water Friday, but the problem reduced pressure to about 100 homes, 50 apartment units and a few businesses. Smiglewski said crews would install an aboveground system to increase the pressure.
"How ironic. We don't have water, we have a flood," Smiglewski said. "It is really what we didn't need to have happen right now."
The Mississippi River also threatened low-lying areas in eastern Minnesota, western Wisconsin and northeast Iowa.
Copyright 2018 The Associated Press. All rights reserved. This material may not be published, broadcast, rewritten or redistributed. We strive to uphold our values for every story published.