Journalist, musician and storyteller Jay Sand of Philadelphia will give a multimedia presentation called "The Jews of Africa" at 6 p.m. Saturday at the Lawrence Jewish Community Center, 917 Highland Drive.
The event will feature stories and slides gathered from Sand's journeys to Jewish communities across Africa, live and recorded music of African Jews, and a meal featuring African food.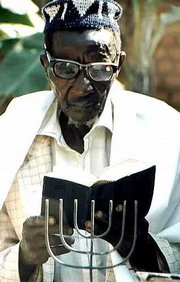 Sand, an American Jew, will describe his recent visits to groups such as the Abayudaya of Uganda, the House of Israel community of Ghana and the Beta Israel of Ethiopia.
He will also teach participants how to sing African-Jewish songs in Hebrew, Luganda and Sefwi languages.
Diane Whitten, a member of the Lawrence center, and Susan Shafer-Landau, executive director of Kansas University's Hillel Foundation, 940 Miss., worked together to bring Sand to Lawrence.
"I thought it was an interesting program, because not many of us think of there being Jews in Africa. These are remote tribes of Jews who have not had contact with other Jews," Whitten says.
"I can't wait to hear how they do their prayers. They have not heard the traditional tunes other Jews use. Jay recorded them and will be playing it as part of his program."
Sand will also give a presentation today at KU Hillel, the university's central organization serving Jewish students. The event is limited to KU students.
"The Jews of Africa" is designed to be a vibrant way to learn about these distant communities.
"We will be able to experience this not from a lecture, but by being able to eat their food, listen to their music both recorded and performed live by Jay and get a flavor of what these cultures are like," Whitten says.
The African meal will adhere to all dietary laws that apply for Jews during the Passover holiday, which ends at sunset Sunday. During Passover observant Jews do not eat any foods with yeast in them, such as bread.
The meal that is part of Sand's presentations typically features food and drink such as groundnut soup; rice, yams, plantains and cassava; boiled milk; and a Ugandan dessert call mandaz, which has pineapple, mango and papaya.
The meal will be served communally and without silverware, as it would be in Africa.
Sand is a managing editor with the Direct Action Media Network, an international news service that covers progressive political movements.
Tickets to "The Jews of Africa" cost $10 in advance or $12 at the door. To buy tickets, contact Diane Whitten at 843-9302.
Copyright 2018 The Lawrence Journal-World. All rights reserved. This material may not be published, broadcast, rewritten or redistributed. We strive to uphold our values for every story published.