Most people, if asked, would probably name the Bible as the greatest book ever written. Others might counter with "Gone With the Wind" or "Ulysses" or, one of my favorites, "Lonesome Dove."
What would you say if someone asked you to name the greatest baseball book ever written? You might pick "Boys of Summer." Or "Glory of Their Times." Perhaps even "Rhubarb."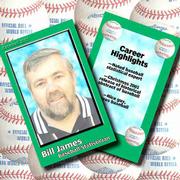 Or would you mention the "Baseball Historical Abstract," penned by Lawrence's own Bill James? A lot of people do, you know. In fact, I saw a list on a Web site the other day that ranked James' book No. 2 behind Lawrence Ritter's "Glory of Their Times."
"Fans of James have been waiting since Y2K," the site stated, "for word when James is planning on updating his work. There will be a long line of buyers when it does come out."
You may begin to queue in November.
James' Historical Abstract, first printed in January of 1986 and revised marginally in paperback form in the early 90s, has been updated at last and is due out before Christmas.
It will be, by all reckoning, the magnum opus of the author who for the last two dozen years has arguably published more controversial and thought-provoking articles about baseball than anyone.
How big is James' upcoming updated Abstract?
"It's immense," James told me the other day. "The manuscript I sent in is 2,300 pages, and I'm sending the editor something I left out."
How big is it compared to his original Abstract?
"That one was big," James said, "but this one is bigger. The manuscript is twice as long. It has ratings of the best 100 players at each position, and articles on every decade since the 1870s."
Nothing written about the national pastime has ever approached the size of the Baseball Encyclopedia, a compendium of statistics on every man who has ever played in the major leagues.
"No, it won't be that big," James said, "but it'll be a good-sized book. I believe they think the book is in the size and price range that they want to sell it before Christmas."
Estimated cost is $45.
Heck, it will cost you that much to purchase a used copy of James' last paperbound Baseball Abstract published in 1988, or at least that's the price I saw on a used-books Web site. The original cost was $8.95.
To refresh your memory, James began compiling his Baseball Abstract in 1977. For five years, the only way you could obtain one was to write to James' Lawrence post office box. Then, in 1982, Ballentine agreed to publish the Baseball Abstract and sell it for a mere $5.95. Currently, that used-books Web site lists a pristine '82 Baseball Abstract at $68.50.
James burned out and didn't do an Abstract in 1989. However, he returned in 1990 with a three-year run of the Bill James Baseball Book that was, in truth, more readable and more diverse than his Abstracts.
In 1995, James penned a hardbound book about the politics of Baseball's Hall of Fame selection process and in 1997 he authored a book titled "The Guide to Baseball Managers from 1870 until Today."
Since then he has done player ratings for Stats Inc. while remaining involved in Bill James Fantasy Baseball. And, of course, he has been grinding out the updated Historical Abstract.
Ah, but that isn't all. Would you believe he'll have two books out this fall? In addition to the Historical Abstract, he has finished a smaller book he calls "Win Shares."
"It takes the concept of runs created by a player to wins created by a player," James said. "I had assumed it was impossible to say how many wins a player created. In fact, you can. But it's so complicated it takes a book to explain it."
Who but James would attempt to write a book on such an obscure topic? Or as Time Magazine once said of James: "Much of the joy of reading him comes from the extravagant spectacle of a first-rate mind wasting itself on baseball."
That's what happens when a first-rate mind has such a passion for the sport that he admits he became almost "physically ill" when the Royals blew a lead against the Yankees the other night.
Many of James' theories, postulations and opinion pieces have been inspired by moments spent at Kauffman Stadium. For instance, he decided to rank the top 100 players at each position based on a friend's remark during a Royals game a few years ago.
"My friend told me he thought Mike Macfarlane was one of the worst catchers ever," James related. "He said he could name 250 catchers better than Macfarlane. So I told him to go ahead. He named about 20 and the last one was Andy Seminick, and then he went dry."
Later, when James was working at his computer and digesting all the numbers that popped up about backstops, he learned he could not find 100 catchers who were better than Macfarlane.
"He ranks somewhere around 80th," James said.
What's ahead for Bill James? Will he resurrect the annual Baseball Abstract?
"There is some chance I might go back to doing it," he said. "It got imitated to death so there wasn't any point in doing it anymore. And the publisher wanted it so fast you had only about a month after the season ended to do it."
In the meantime, James says, he'll "take a few months off and breathe" because he's in his 50s now and he wants to reacquire a contemporary consciousness.
"My skills have gotten behind the times," he said. "For instance, I need to learn to do research on the Internet and write about things that are happening now before I make myself irrelevant."
Copyright 2018 The Lawrence Journal-World. All rights reserved. This material may not be published, broadcast, rewritten or redistributed. We strive to uphold our values for every story published.